Skip to content
Skip to navigation menu
Specific Canine CRD-2 Weight Control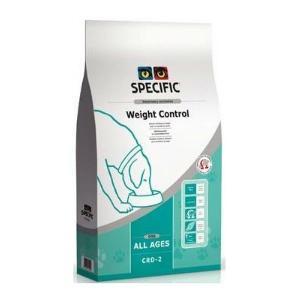 Product details
SPECIFIC Canine CRD-2 Weight Control has a low content of fat and high content of fibre result in a low energy density. Even during a period of weight reduction and/or weight control this will enable the owner to feed a considerable amount of food, ensuring that the dog's appetite has been sated.

Key Benefits:
L-carnitine transports fatty acids into the mitochondria and stimulates oxidation of fat and preservation of muscles.
Omega-3 fatty acids help to maintain normal mobility in joints of overweight dogs. Omega-3 fatty acids also support a healthy skin and coat.
The moderately increased protein content ensures maintenance of muscles.
The content of complex carbohydrates and the high level of fibre promote a gradual release of glucose from the diet, which makes it suitable for patients with diabetes mellitus.
Customer reviews
We're sorry but there are no reviews of this product in English.