Skip to content
Skip to navigation menu
Specific Canine CXD-S Adult Small Breed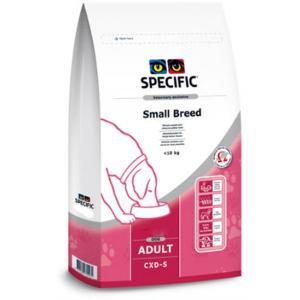 Product details
SPECIFIC Canine Adult Small Breed CXD-S is complete, balanced diet, with a moderate level of energy that meets the requirement of small breed dogs and helps them maintain their ideal body weight.

High quality and high digestible ingredients ensure a maximum uptake of nutrients from the diet, whilst reducing faecal output. EPA and DHA are both omega-3 fatty acids with a beneficial effect on the maintenance of healthy skin and coat and healthy joints.

Contains ß-1,3/1,6-glucans from yeast which can bind to receptors of white blood cells, thereby alerting the immune system and supporting the immune response.
Customer reviews
We're sorry but there are no reviews of this product in English.