Skip to content
Skip to navigation menu
You have setup the following Repeat Order: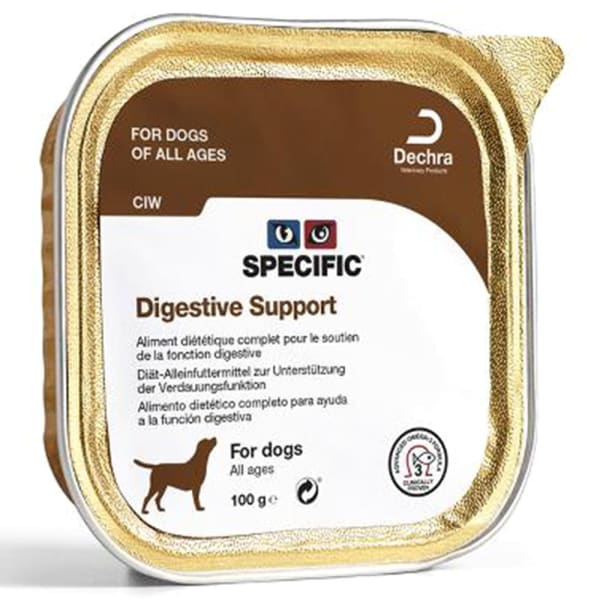 Specific Digestion Support Adult Wet Dog Food
Specific Digestion Support Adult Wet Dog Food
Specific Digestion Support Adult Wet Dog Food
Back in stock notification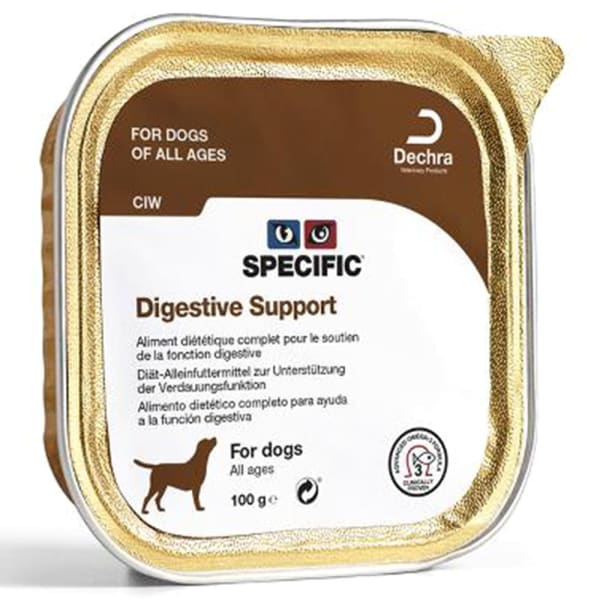 Specific Digestion Support Adult Wet Dog Food
Specific Digestion Support Adult Wet Dog Food
Enter your name and email address below then select which items you would like to be notified of when available.
Product details
SPECIFIC™ Veterinary Food for Dogs
SPECIFIC™ offers a complete high quality product range within life stage diets for healthy pets and therapeutic diets for management of clinical conditions to provide pets with the best nutritional platform throughout their life. SPECIFIC™ diets consist of a selection of high quality raw materials and offer both high digestibility and palatability.
 
All SPECIFIC™ diets are sold exclusively through veterinarians to ensure that pet owners are always given optimal nutritional advice. SPECIFIC™ are developed and produced in Scandinavia by Dechra Veterinary Products. The SPECIFIC™ diets from Dechra are developed in close collaboration with veterinarians, vet nurses and experts in animal nutrition.
The range of SPECIFIC™ diets consists of complete life-stage diets for healthy cats and therapeutic diets for the management of clinical conditions. To make sure that you always get the diet that suits your cat, SPECIFIC™ is sold only through veterinarians.
No prescription is required to purchase SPECIFIC™ Veterinary Dog Food from PET SUPERMARKET®
SPECIFIC™ Digestive Support
SPECIFIC™ Digestive Support is a highly digestible diet for the management of gastro-intestinal conditions related to malabsorption and maldigestion like chronic diarrhoea, exocrine pancreas insufficiency, small intestinal bacterial overgrowth, EPI, SIBO and some cases of colitis caused by irritation by unabsorbed food.
The diet has the following characteristics to compensate for compromised absorption and digestion and increased losses of nutrients during vomiting and diarrhoea:
Well digestible ingredients


Reduced level of fibre


Increased level of minerals, electrolytes and fat soluble vitamins
Besides these characteristics, the diet has some unique added features:
Enhanced Immune Support
The immune system is important for protection against pathogenic bacteria, viruses and protozoa, which can cause diarrhoea. SPECIFIC™ Digestive Support has added beta-1, 3/1, 6-glucans and MOS (mannan oligo saccharides) for unique strengthening of the intestinal immune system.


Effective Odour Control
The diet contains Yucca extract to reduce the unpleasant smell from faeces and flatulence.


Intestinal Protection Complex
SPECIFIC™ Digestive Support contains psyllium husk and zeolite for extra protection of the intestinal tract and support of intestinal health.
For dogs with gastrointestinal problems, the daily ration should, ideally, be divided into 3 to 5 meals a day.  
Ingredients
Meat and animal derivatives, cerealsminerals (including zeolite), eggs and seeds, vitamins and trace elements, yeasts (source of ?-1, 3/1, 6-glucans), derivatives of vegetable origin. Contains no artificial colours or flavourings.
Dosage
It is recommended that a veterinarian's opinion be sought before use or before extending the period of use.