Skip to content
Skip to navigation menu
Specific Feline FSW Struvite Dissolution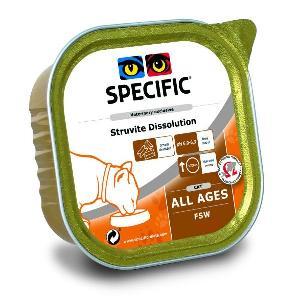 Product details
Specific Feline FSW Struvite Dissolution has a reduced content of magnesium and phosphorus (components of struvite crystals) for dissolution of struvite stones and prevention of recurrence of struvite crystals and stones.

Key Benefits:
Urine control: A urine pH at 6.0 – 6.3 dissolves existing struvite crystals and prevents precipitation of new struvite crystals.
High urine volume: The increased sodium content promotes diuresis, which is associated with reduced urinary mineral concentrations and increased urinary frequency.
Please note: This diet is meant as a temporary diet and should only be fed for a period of 5 to 12 weeks.
Customer reviews
We're sorry but there are no reviews of this product in English.