Skip to content
Skip to navigation menu
Specific Puppy CPD-M Medium Breed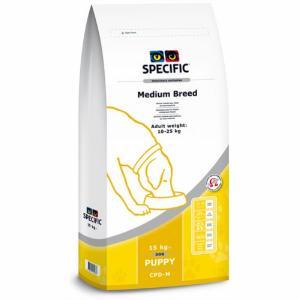 Product details
SPECIFIC Puppy CPD-M Medium Breed has increased levels of energy, protein, vitamins and minerals meet the requirement of growing medium breed puppies, and support normal skeleton development.

Key Benefits:
DHA is an omega-3 fatty acid which supports the development of the brain and vision.
EPA and DHA are both omega-3 fatty acids with a beneficial effect on the development of healthy skin and coat and healthy joints.
Contains ß-1,3/1,6-glucans from yeast which can bind to receptors of white blood cells, thereby alerting the immune system and supporting the immune response.
Psyllium Husk is a gel-forming soluble fibre, which absorbs several times its weight in liquid, and is known for its beneficial effect on the regulation of the gastrointestinal tract activity.
Customer reviews
We're sorry but there are no reviews of this product in English.