Skip to content
Skip to navigation menu
SureFeed Microchip Pet Feeder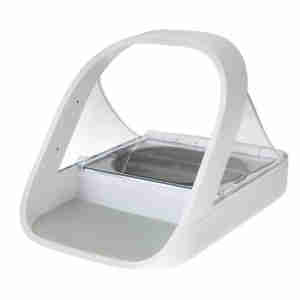 Product details
The SureFeed Microchip Pet Feeder is a daily use feeder that only opens for a designated pet based on their implanted identification microchip.
As your pet approaches the feeder, it recognises their microchip or RFID collar tag and only opens for them. Once they move away it automatically closes, preventing all other animals and children getting access to their food.
Key Benefits:
Ensures that the designated pets access their own food
Ensures that prescription food is consumed by the right pet
Great for pets on weight management diets
Lid forms a seal in the top of the food bowl keeping food fresher for longer and preventing flies from getting to the food
Stops dogs and small children getting the food
Keeps home free of odours
Compatible with all worldwide implanted identification microchips
Can store up to 32 in memory
3 year warranty
Size guide:
Size of the area your pet will eat from
210mm (W) x 115mm (H)
Overall size of the Microchip Pet Feeder
320mm (W) x 200mm (H)
Size of the inside of the bowl
105m (W) x 160mm (H) x 30mm (D)
Size of the mat
204mm (W) x 111mm (H)
Customer reviews
Product reviews are filtered by language.
The following reviews are available in English.
Excellent product

My very nervous cat finally has her own eating place! I took time to introducing her to the new system but it had really been worth it. My sons dog can no longer snaffle her food and it keeps the food much fresher. Neat and portable she now knows it's HER food. Expensive but worth it.

Awesome piece of technology

2 cats - one fussy eater and one who will eat everything in sight = one over skinny cat and one Porker & Vets description. This bowl has transformed the situation - skinny cat can now eat whenever she wants and Porker is now on a strict diet. Excellent product.

SureFeed Microchip Pet Feeder

Surefeed microchip pet feeder is brilliant and so easy to set and use! I have two cats, one greedy and the other a grazer. The training is well explained and straightforward. Once in working mode, the look on the greedy cat's face when she couldn't get to the grazers food & after she had bolted down her own food, was a picture I will not forget for a long time!!

Microchip feeder

Very good and exactly as described. It only took a few days to train up my cat and save her food from the other piggies

surefeeder

great product, i have 2 cats and one was always eating the others food so this has been a godsend.