Skip to content
Skip to navigation menu
Sureflap Microchip Pet Door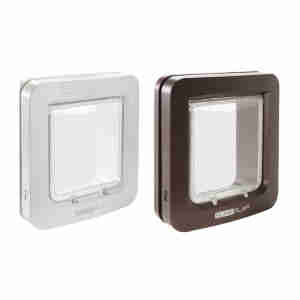 Product details
SureFlap Microchip Pet Door is designed to meet the needs of large cats and small dogs. It is compatiple with most common microchips. The Pet Door works with a pet's existing identification microchip or RFID collar tag. One tag is supplied per Pet Door.

Key Benefits:
Compatible with all microchip formats worldwide
Suitable for multi-pet households (up to 32 pet identities)
Curfew Mode: program the door to lock and unlock at specified times
Double Lock Mechanism for increased security against intruder animals
Fits into doors, windows and walls
Battery powered: 12 months typical battery life
Requires 4 C cell batteries (not included)
Customer reviews
Product reviews are filtered by language.
The following reviews are available in English.
Potentially an excellent product

we purchased this cat flat to keep out intruders which it does, but we also needed to keep a new kitten in the house whilst giving our other two cats freedom to come and go. The only product in this range offering this option was an exceptionally small cat flap which would be difficult for normal sized cats to use, let alone Maine Coons, so we have had to revert to our old, less high tech flap for now which can be manually set to stop the kitten going out until he is big enough to join the others in the garden. It is a good product but would be so much better if the the exit mode could be programmed by chip as well as entry. I don't understand the logic - if only cats with chips programmed into the system can enter, why should any cat, chipped or not, be able to exit? There isn't even a manual override where you can allow entry for all but no exit, which is what we've had to do with our old cat flap and manually monitor until we can let the kitten out.

Bets Cat flap on the market

I've had one of these for 8 years, never had any problems, batteries last a very long time. Great product!

works perfectly, took about a week to get my cat used to it, but shes sussed it now! nice to know the cat up the road cant nick her food now!

Really good cat flap

Cat has got used to using the cat flap really quickly. Great that it only lets our cat into the house, but we are really glad we went for the bigger size as I think he would have struggled to get through the smaller one even though he's not a fat cat. Overall really pleased.

Excellent, far better than alternatives we have tried

I think this cat flap is excellent, we have had 3 other cat flaps from other manufacturers with microchip/timer facilities and have sent them all back due to malfunctioning. So far and fingers crossed we have had no issues with this one. It opens as soon as the cat comes near, no multiple pushing to get it to open. Next doors large tabby is left outside looking sad as he can no longer get in and eat their food!. One of my cats has never used any other cat flap, but loves this one. As for this website it was quick delivery and no issues either.