Skip to content
Skip to navigation menu
Trixie Julio Scratching Post Beige/Brown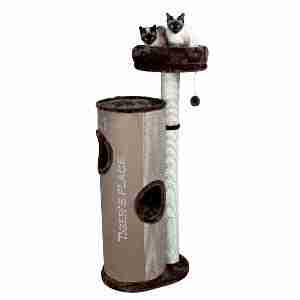 Product details
Trixie Julio Scratching Post Beige/Brown is a medium sized cat tree that has a cave with three levels.
This scratching post has an extra thick high post, which makes it ideal for large and heavy cats.
Key Features:
Plush cover
Posts wrapped in natural sisal
Padded platform
Cave in suede look and with sisal scratching surface, with 3 levels
Platform with removable cuddly bed
Cuddly bed with reversible cushion: washable by hand
Ball on string toy
Measurements:
Floor area: 55 x 40 cm
Diameter trunk: 11 cm
Height: 140 cm
Customer reviews
We're sorry but there are no reviews of this product in English.