Skip to content
Skip to navigation menu
Trixie LED pointer Catch the Light Yellow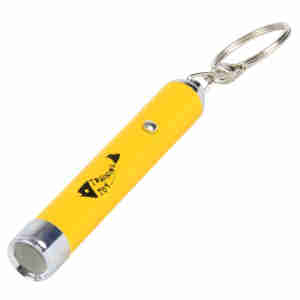 Rollover image to zoom
Product details
Treat your feline friend to hours of play with the Trixie Cat LED Pointer in Yellow.
What's it for
Indoor cats often need a little more encouragement to stay active and in good shape than their outdoor counterparts – a feat made that much easier with the Trixie Cat LED Pointer.
The fish-shaped LED light will have your pet intrigued from the get-go, helping them get a great workout without ever having to get their paws dirty.
By following the rapid movement of the LED, your cat can stretch and strengthen their muscles as well as engage their brain. Daily play all adds to a happy, healthy lifestyle for your pet.
If you're trying to house train your cat (or teach them fun tricks), this pointer can also be used alongside treats to help them understand good behaviour.
Key benefits
made from lightweight materials
added keyring attachment
safe for your cat's eyes
sturdy plastic and aluminium casing
100-hour battery time
How it works
We all know that cats love to chase anything that moves. Keep your toes and fingers safe by distracting excitable felines with this LED light pointer. Project the pointer onto flat surfaces, moving it around at different speeds for your cat to chase.
What's more, the Trixie Cat LED Pointer boasts 100 hours of life, giving you and your furry friend plenty of bonding time. The keyring attachment also allows you to keep the toy close at hand and ready to use in at any time.
As well just-for-fun use, it's also possible to use the Trixie Pointer during training, helping your cat to learn good behaviour.
Click here
to find out more about how we help to provide recycling facilities for electrical equipment.
Customer reviews
Product reviews are filtered by language.
The following reviews are available in English.
Good little toy

I bought 2 of these, one for my cat & one for my mothers cat. My cat runs after it for a few minutes and gives up, but my mothers cat is a bit more active & loves it. It works well in the dark or if you shine it on a dark carpet, but is difficult to see during the day, but I don't mind that as its safer than a laser pen.

My cat loves it!

Bought this as a cheap add on to my order and has been a hit for my cat- her new favourite toy! She hears the jangle of the keyring when you pick it up and jumps up to play. For the lazier owners out there, this means you can play from the sofa without getting up! If it's bright daylight it doesn't show that clearly to me but my cat seems to still see it most of the time, however I read that these can be safer for the cats eyes than the lazer point type ones, so I presume this is why.