Skip to content
Skip to navigation menu
Trixie Sisal Rope Toy for Cats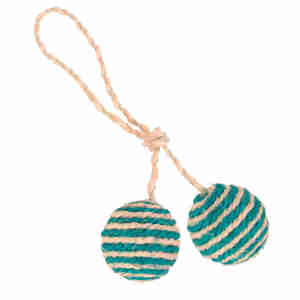 Rollover image to zoom
Product details
Made with natural sisal, this cat toy is the perfect solution for entertaining your feline friend.
How it works
This toy is designed to catch your cat's attention. Hold the sisal rope and drag the colourful balls along the floor to engage your cat's natural hunting instincts. Your cat will watch the toy calmly, deciding when to pounce.
Key benefits
natural sisal
allows your cat to express their hunting instinct
perfect for bonding through play
encourages your cat to exercise
When to use it
In the wild, cats hunt up to 10 times per day. Even housebound pets will express this behaviour by pouncing and leaping, usually at their owner's feet or a dog's tail. Scheduling some time into your day for playing with your cat is a great way to bond and helps your pet fulfil their instincts safely. Aim to play with your cat at least twice a day for around 15 minutes at a time. Cats are creatures of habit, so try to organise this at the same time every day.