Skip to content
Skip to navigation menu
Trixie Wind Up Mouse Cat Toy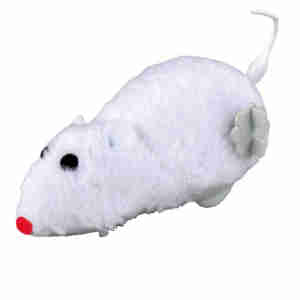 Rollover image to zoom
Product details
Let your cat stalk and pounce to their heart's content with the Trixie wind-up mouse toy.
What it's for
House cats don't get as much exercise as their outdoor counterparts, since they can't roam around outside. This also means they miss out on practising their natural hunting skills. Get your cat back into the swing of things with this handy wind-up mouse toy.
Play is a great way to stop your cat from getting bored and spending their energy on scratching your household furniture. Spend at least 30 minutes a day playing intensive games with your cat to create a close bond and keep them on the move. This stimulates their mind and muscles, so they'll stay fit and healthy for longer.
Key benefits
stimulates your cat's natural instincts
furry fabric mimics the look of a live mouse
wind it up and watch it go
moves quickly across the floor, encouraging your cat to chase
11 centimetres long for realistic mouse mimicry
exercises your cat's mind and body
How it works
Cats all have a natural hunting instinct that flares up when they spot prey. Protect the local wildlife and give your cat this fluffy moving toy instead.
This simple wind-up mouse toy doesn't need batteries to get it started. All you have to do is wind it up and set it off across the floor. Watch as your cat pricks up their ears, plans their next move and pounces. The toy moves more easily across smooth surfaces, though it shouldn't get stuck on short-pile carpets either. It's big enough that your cat can carry it in their mouth without the risk of swallowing.