Skip to content
Skip to navigation menu
Verm-X Keep-Well For Poultry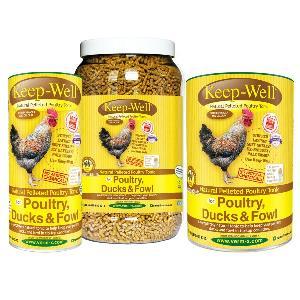 Product details
Verm-X Keep-Well is a non-GM pelleted formulation for improving and maintaining general health in all poultry and fowl, containing and effective blend of 6 herbs including Ginseng and Echinacea, plus calcium, sunflower oil and seaweed meal – with no chemicals and no egg withdrawal period.
Keep-Well pellets are added to your poultry's daily feed to assist with addressing conditions such as soft shells, recuperating battery hens and pale combs, helping to maintain good, healthy, productive birds. It is also ideal when your birds are moulting.
Ingredients include:
Allium Sativum, Urtica Dioica, Tanacetum Vulgar, Cinnamomum Zelandicum, Echinacea and Ginseng.

Feeding instructions:
Feed 2.5g per bird per day as required. Keep-Well mixes well with layers pellets or mixed corn.

Average period of use:
14-28 days to improve health, or can be used all year round as a general tonic.