Skip to content
Skip to navigation menu
Verm-X Pellets For Poultry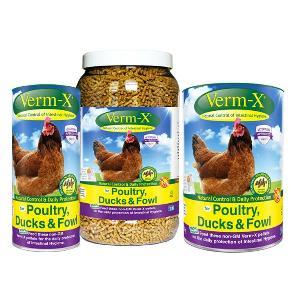 Product details
Verm-X Pellets for all Poultry and Fowl – A 100% natural based feed pellet for top dressing containing the Verm-X Poultry Formula.
For free range birds where drinking water may not be exclusive.
The Pellets are 2mm in diameter and mix well into regular manufactured feeds or home made feeds. Produced under licence by Gro-Well Feeds Limited from Wiltshire they bring over 35 years of feed production experience. All ingredients are natural and non-GM and the pellets are produced in one of the UK's only low temperature pelleting facilities to avoid damaging the ingredients during production.
Being a 100% natural herbal formula there is no egg withdrawal period - Verm-X is easy to use by adding to your bird's feed for 3 consecutive days each month. A further advantage of Verm-X over chemical based products is that if you are growing your birds for your dinner table there is no withdrawal period after using Verm-X prior to eating.
Benefits
Verm-X Pellets are easy to use as a top dressing for feed - used for 3 consecutive days each and every month
Verm-X Pellets have the advantage that there is no egg or bird withdrawal period
Verm-X Pellets are ideal those who wish to control all known parasites in poultry naturally
Verm-X Pellets are ideal for poultry on naturally kept or following organic farming methods
Verm-X Pellets are extremely palatable and have no known resistance
Feeding Directions
Add 2.5g per bird to feed for 3 consecutive days - repeat every 4 weeks.
A 2.5g scoop is in the re sealable tub – please keep tub sealed and in dry conditions.
Amounts quoted are for adult birds. If young birds eat the Verm-X this is fine. If specifically feeding young birds feed half the amount for birds between 2 and 4 months old.
Ingredients
Ingredients:
Wheat Meal, Wheatfeed Meal, Limestone Flour, Garlic, Cinnamon, Common Thyme, Seaweed Meal, Sunflower Oil, Nettle, Cleavers, Fennel, Peppermint, Slippery Elm, Quassia, Dicalcium Phosphate, Cayenne.
Additional Information
A 250g tube of pellets will last 5 birds over 6 months.
Dosage
Add 2.25g per bird per day as a top dressing to their regular feed ration. Repeat for three consecutive days each and every month.
Feed half the amount to chicks between 2-4 months of age. The full adult amount can be fed from 4 months of age.
Customer reviews
Product reviews are filtered by language.
The following reviews are available in English.
gentle wormer

I have used this product for years to help keep my chickens healthy.