Skip to content
Skip to navigation menu
Wagg Complete Senior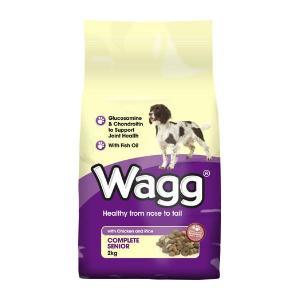 Product details
Wagg Dog Food Complete Senior
This diet contains Glucosamine and Chondroitin combined with added fish and fish oils to help promote supple joints in dogs of all ages.
It also contains L-carnitine, which may help with weight control in older, less active dogs
A quality complete dry senior dog food available at outstanding value.
Balanced Nutrition: All our complete dry dog food recopies are made up of carefully chosen ingredients, a unique formulation, plus a combination of yeasts (mannan oligosaccharides), vitamins and minerals, including vitamins A, C, D, E and the vitamin B complex. We also add antioxidants from plant extracts, which all helps to support keep your dog fit and healthy. You'll be able to see the difference from their glossy coats, bright eyes, strong supple muscles and healthy digestive system.
Dogs in different stages of their lives need different diets so some of our complete dry dog food products have added extras. For senior dogs we add glucosamine, chondroitin and fish oil for supple joints as well as vitamin E for its strong antioxidant properties. For puppies we balance calcium and phosphorous ratios to help in the development of strong bones.
Reduced odours from flatulence: All Wagg complete dry dog food products contain a special Yucca extract that is widely acclaimed for its odour reducing properties. If you've ever shared a room or a car with a windy dog you'll appreciate these benefits!
Natural ingredients: There are no artificial colours or flavours in our ingredients and they are also quality assured.
Wagg complete dog food is suitable for all dogs from 8 - 12 weeks onwards.
Wagg Dog Food
It goes without saying that a healthy pet is a happy pet, and we know how important your dogs and small animals are to you. That is why all our complete dog food, complete puppy food, complete senior dog food and small animal food is made from high quality ingredients, nutritionally balanced and represents great value.
We don't use any artificial colours or flavours in our pet food, the meat in our complete dry dog food is human food grade and, where possible, we source our raw materials locally or nationally, within the UK.
We're also a family owned and run company. We share a passion for pets and their welfare. We can also lay claim to a heritage of working with animals going back over three generations and most recently with over 25 years experience in the UK, of developing and manufacturing pet food products, to keep your pet healthy from nose to tail.
Ingredients
Wagg Dog Food Complete Senior
Ingredients
Wheat, Meat Meal, Wheat feed, Maize, Chicken Meat Meal (min 4% in red kibble), Digest, Poultry Fat, Rice (min 4% in rice disc), Vitamins & Minerals, Fish Meal (1%), Carrot, Beet Pulp, Linseed, Fish Oil (0. 5%), Peas, Lucerne, Yeast (0. 08%), Citrus (0. 03%), Yucca (0. 01%), Glucosamine (0. 03%), Chondroitin (0. 015%).
Analysis
Protein 20%, Fat Content 7. 5%, Crude Fibre 3%, Crude Ash 8. 5%, Omega 6, 1. 3%, Omega 3, 0. 4%.
Additives per kg
Vitamin A (E672) 13, 000 iu, Vitamin D3 (E671) 1, 300 iu, Vitamin E (E307) 100 mg, Vitamin C (ascorbyl monophosphate) 40 mg, E1 Iron (iron III ferric oxide) 800mg, E2 Iodine (calcium iodate) 2 mg, E4 Copper (cupric sulphate pentahydrate) 10 mg, E5 Manganese (manganous oxide) 50 mg, E6 Zinc (zinc oxide) 40 mg, E6 Zinc (zinc chelate) 60 mg, E8 Selenium (sodium selenite) 0. 1 mg, L-carnitine 30 mg, Antioxidant, Preservative.
Dosage
Wagg Dog Food Feeding Guide
All our complete dry dog food products can be fed dry or moistened with cold or warm water in a recommended ratio of 1 part water to 2 parts food. Just make sure you always provide a bowl of clean fresh water. To switch from another food to a Wagg complete dry dog food gradually introduce over a 5 to 7 day period. All our adult complete dog food products can be fed to all dogs from 8 - 12 weeks onwards, but this can vary depending on breed, please consult your vet if you need further advice. Try not to overfeed and give your dog as much exercise as possible. See the tables below for suggested daily amounts.
Young Dogs: Puppies and growing dogs should generally be fed according to appetite where possible, but the tables below show suggested daily amounts.
Feeding Wagg Puppy: After weaning, Wagg puppy food provides a completely balanced diet that puppies and growing dogs can enjoy from 3 weeks onwards. To introduce Wagg puppy food, you should moisten the food with water or milk (approximately 1 part liquid to 2 parts food) and feed your puppy frequently (3-4 meals a day). This can be reduced to 1-2 meals after 6 months.
Feeding other Wagg diets: You should feed young and growing dogs of 8 weeks and upwards at least 2-3 times a day. Once they get a bit older, say from 8-12 weeks, you should feed them up to 3 times a day and then twice a day from 12-24 weeks. Once they have past the 24 week mark, keep it to once or twice a day.
Whelping: Bitches in whelp need up to 50% more than their normal intake from mid pregnancy onwards. Lactating bitches need up to 4 times as much feed as their normal intake.
Wagg Original/Chicken & Veg, Wagg Premium, Wagg Worker, Sensitive (Gluten Free) & Wagg Senior
Size of Dog
Dog Weight
Daily Amount
Young
8 weeks upwards
See Feeding Guide below
Small
3-10kg,
7-22lbs,
75 - 200g
Medium
10-20kg,
22-44lbs
200 - 400g
Large
20-40kg,
44 - 88lbs
400 - 600g
Ex-Large
40kg+,
88lbs+
600 - 600g+
A teacup is approximately 100g.
Puppy Feeding Guide
Dog Weight
3-6 weeks
6-12 weeks
3-4 months
4-6 months
6-12 months
1-3kg
2-7lbs
*
30g - 60g
35g - 55g
25g - 45g
20g - 40g
3-10kg
7-22lbs
*
110g - 300g
105g - 300g
90g - 250g
75g - 200g
10-20kg
22-44lbs
*
300g - 600g
280g - 550g
250g - 500g
200g - 400g
20-40kg
44-88lbs
-
-
550g - 850g
500g - 700g
400g - 600g
40kg+
88lbs+
-
-
-
750g+
600g+
* To introduce Wagg Puppy food, moisten with water or milk and feed frequently.

A teacup is approximately 100g.
Customer reviews
Product reviews are filtered by language.
The following reviews are available in English.
very good

We have an old arthritic dog and this food helps maintain her weight, as well as being high in glucosamine and chondrointin to ease her joints, she has been on this for a few years now and she enjoys it as much as her previous food.

2 senior Labs

One of my senior Labradors has a " delicate" tummy. She has no problems with Waggs senior complete, which I have been feeding both Labs for a few years now.

Wagg senior

My dog is nearly 12 yrs old and he loves Wagg senior with a drop of gravy he eats it all up. Great.

Good value dog food

Have used Wagg Dog Food for many years and have changed in the last few years to the Senior as my dog is now almost 10 1/2 yrs old. Never had any problems and it is a great product.

I moved my Lhasa from normal Wagg to this and she wouldn't touch it at all. When I tried my other two dogs on it to use it up, they wouldn't eat it either.