Skip to content
Skip to navigation menu
Wahl Battery Pet Trimmer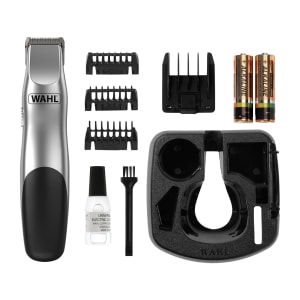 Product details
Trim your dog's paws, ears and face with ease using the Wahl battery-operated pet trimmer. It's quiet, compact and cordless, making regular grooming simple.
What it's for
The Wahl battery-operated pet trimmer can be used to groom both cats and dogs. If your pet's hair regularly needs to be tidied up, this cordless shaver is easy to use for a quick touch-up. It can also be used for medical purposes, with a super-close setting for a pre-injection shave.
Bigger or louder clippers can often frighten pets when they're having their face, ears or paw hair neatened, so the quieter sound is ideal for nervous animals. The Wahl website includes step-by-step guides to help you adjust the clipper, oil the unit and change the blade.
Key benefits
cordless and battery-operated
can be used for up to three hours per charge
quiet trimmer suitable for nervous pets
soft-touch comfortable grip
chrome-plated blade
small 22-millimetre cutting width
suitable for paws, ears and face
includes batteries, comb attachments, clipper oil and storage stand
How it works
The attachment comb offers six cutting lengths, so you have the flexibility to groom your pet in whatever style you prefer. Three close-trim settings can be used for a smoother shave. Some pets can be particularly sensitive about having the delicate areas around their face, paws and ears trimmed, so this Wahl clipper is designed to be quiet and gentle to make grooming stress-free for you both.
The cutter is cordless and comes with 2 AA batteries, which can last for two to three hours, giving you plenty of time to groom your pet. It's supplied with a storage stand to keep the kit tidy when not in use.
Click here
to find out more about how we help to provide recycling facilities for electrical equipment.
Customer reviews
We're sorry but there are no reviews of this product in English.