Skip to content
Skip to navigation menu
You have setup the following Repeat Order: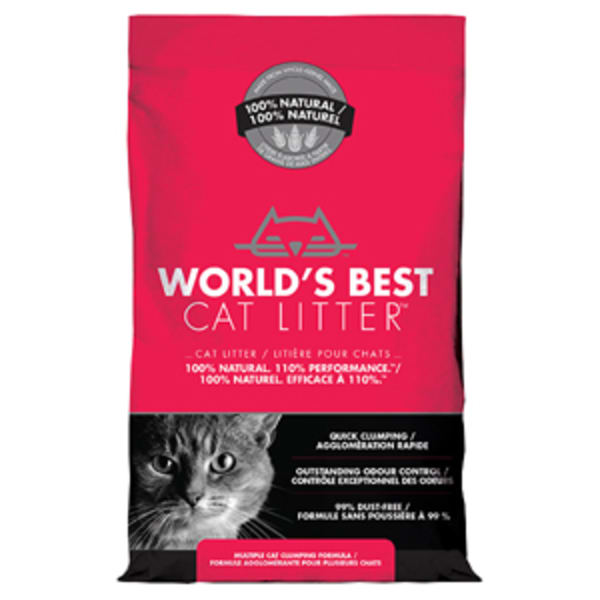 Worlds Best Extra Strength Cat Litter
Worlds Best Extra Strength Cat Litter
Worlds Best Extra Strength Cat Litter
Back in stock notification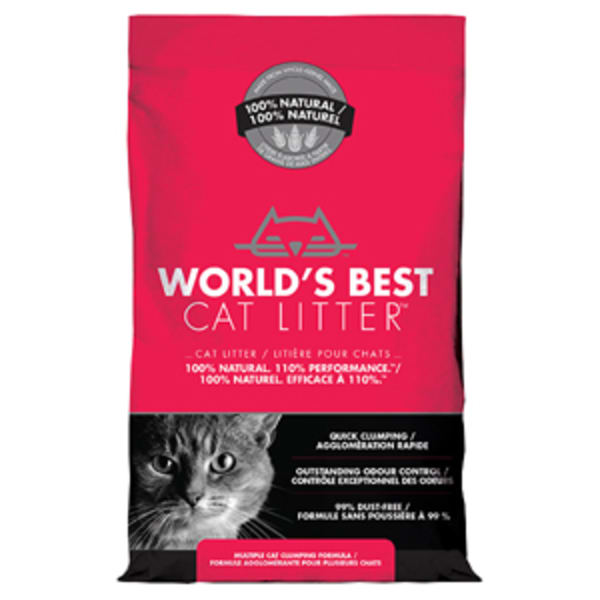 Worlds Best Extra Strength Cat Litter
Worlds Best Extra Strength Cat Litter
Enter your name and email address below then select which items you would like to be notified of when available.
Product details
Worlds Best cat litter extra strength is made from 100% natural whole corn kernels. It's dust-free, odour-eliminating and flushable.

How it works
Worlds Best cat litter absorbs moisture quickly and effectively, cutting off nasty smells before they have a chance to linger or spread around your home. The soft, fine grains are gentle on paws and let your pet satisfy their urge to dig and scratch. It's also dust-free, so it's suitable if you or your cat has an allergy.

As it's made from 100% natural corn kernels, the litter is biodegradable. It clumps together into small pieces when moisture touches it, but is still water soluble. You can flush it down the toilet rather than popping it in the bin, without worrying about it clogging up your pipes.

Key benefits
super absorbent
contains no added chemicals
completely biodegradable and suitable for flushing
dust-free and fine for cats with allergies
has no odour
clumps together when moist and dissolves again in water
When to use it
Scoop out clumps and solid waste every day to keep your cat's litter tray clean, pleasant and usable. Clumps can be flushed down the toilet, as the litter is completely biodegradable and water soluble.

It's best to train your kitten to use a litter tray as soon as possible. Even if you plan to let them outside, cats sometimes need to answer nature's call inside, like when it's raining or when they're recovering from an illness. Cats value privacy and cleanliness, so choose a quiet spot in your home where they'll feel comfortable. You should also clean out the litter tray on a regular basis.

For best results, fill a clean litter tray to a depth of up to five centimetres. Don't mix with other brands, if possible.
Customer reviews
Product reviews are filtered by language.
The following reviews are available in English.
Best cat litter

Best cat litter in the world is what it says if used properly. You do not break the clumps you can flush them down the loo. Keep the tray topped up with fresh cat litter all is fine.

Love this product

Good value lasts ages because of the way it clumps and u only remove the clumps

Just your average cardboard based clumping litter unless combined...

There is limited odour control but will admit the texture of the litter means your Cats urine is absorbed throughout and past a month if you can handle to pungent odour of Ammonia mixed with sodden Cardboard. The Litter Clumps in the place where the Cat is Urinating straight away, creating a ball of sodden litter, requiring a nightly sift to break up of the clump otherwise the litter would not last more then a week or two. There is no Odour Control at all but if you use this Litter with a crap litter, such as "COLOR" or "Kokoba" or another cheap Silicon-based litter which keeps the tray smelling nice but does not really do it's job as litter, You won't need to change for just over month - this is assuming you filter out the poop and break up the Urine Clumps every night with a sprinkle of litter freshener. I use a combination of this Litter, CATSAN non-Clumping and 2cups Scent-based Litter every week. This combination is by far the best/efficient Litter in my 30 years owning a cat.

meets expectations

clumps well, seems to limit odour. Good value for money

Brilliant

The service plus the excellent delivery service is brilliant. I have never had occasion to grumble. I have ordered via the phone, and also used the site service when trying to find a product - that too is excellent . Thank you to all the Staff concerned.