Skip to content
Skip to navigation menu
YuMEGA Dog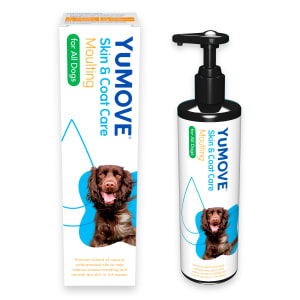 Product details
YuMEGA Dog is ideal for moulting dogs, improves dog dry skin and supports coat condition.
This premium quality coat and skin supplement is packed with natural essential Omega 3 and 6 oils, a proven formula that brings results in 4-6 weeks.
Key Benefits:
Boost coat growth and condition - High levels of Omega 3 oils from Golden Flax help to improve coat condition.
Nourish and soothe dry skin - Omega 6 from Starflower (Borage) nourishes and replenishes the skin. Linoleic acid helps to maintain the skin's natural moisture barrier. Antioxidant Vitamin E from natural plant sources helps to support skin health.
Reduce excess moulting - Omega 6 GLA from Starflower (Borage) nourishes hair follicles and supports the skin replenishment cycle, helping to reduce excess moulting.
Trusted by breeders and vets
It's important to give your dog time to get used to new things you introduce into their diet, so try using half the daily recommendation for the first week before moving up to the recommended amount of Yumega for your dog.
Ingredients
Golden Flax, Borage oil, Vitamin E
Dosage
Feeding Guide:
| | |
| --- | --- |
| SMALL DOGS | (Up to 10kg) 2.5ml |
| MEDIUM DOGS | (11-20kg) 5-7.5ml |
| LARGE DOGS | (21-30kg) 7.5-10ml |
| VERY LARGE DOGS | (Over 30kg) 10-15ml |
Customer reviews
Product reviews are filtered by language.
The following reviews are available in English.
Customer Service

I can't review the item yet as it takes time to work but have been told by others, it's good for dogs coats and to stop skin irritation. So fingers crossed! I had a problem with Delivery but I can't recommend this company enough, the customer service was fantastic! I WILL BE BACK!

yumega oil

I have a siberian husky, aged 5, and have been using yumega oil to help reduce her shedding and to improve her coat. After the first 6-8 weeks i could notice a dramatic difference in the amount she shed (sometimes it was none at all, no seriously) and how soft, silky, and shiny her coat is. Been using it for over a year now and will continue using it. I have found that after 2-3 months of daily use, its good to stop giving it for 2-3 weeks, as like vitamins in humans, their bodies get used to it and becomes less affective. Dont get me wrong, a husky will always shed, but its no where near the amount she used to!

I had an itchy, scratch Border Collie with bald elbows and rough dry skin, constantly scratching. After only two doses of Yumega administered the difference was noticeable and is now part of her daily diet. Her skin and coat are now very much improved!

Our vet recommended we get this for our Springer Spaniel who kept scratching and was moulting very badly we have been using it for 7 months now. He still has a small cod liver oil but the Yumega oil has worked so well he hardly moults at all now. The scatching doesn't exsist

Very impressed. My cocker spaniel sheds far less since using this product and his dry, itchy skin is greatly improved. Highly recommended.