Skip to content
Skip to navigation menu
Zentonil Advanced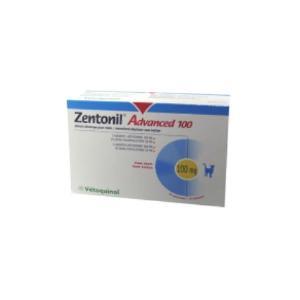 Product details
Zentonil Advanced is a nutritional supplement that may serve as an aid in all cases where the liver is under stress.
Zentonil Advanced contains a pure, stabilised salt of S-Adenosylmethionine (SAM-e) combined with Silybin in a tablet form for cats dogs
Unlike other forms of SAM-e supplementation, Zentonil tablets are enteric coated, to prevent SAM-e being digested by stomach acid. This ensures that the maximum amount is available for absorption from the duodenum.
SAM-e is essential for the production of glutathione, a major liver antioxidant.
Silybin is the most active component of the herb Silybum marianum (milk thistle) and has been shown to help preserve normal liver function.
In a recent study, 51% of dogs and 82% of cats with liver problems were reported to be deficient in glutathione.
By supplementing SAM-e, you are supporting the liver in producing glutathione and thus helping the liver to maintain its normal function.
Administration:
Zentonil Advanced 100mg - 1 tablet per 5kg bodyweight, Once daily on an empty stomach, one hour before or two hours after food
Zentonil Advanced 200mg - 1 tablet per 10kg bodyweight, Once daily on an empty stomach, one hour before or two hours after food
Zentonil Advanced 400mg - Administration:
1 tablet per 20kg bodyweight, Once daily on an empty stomach, one hour before or two hours after food