Skip to content
Skip to navigation menu
PURINA PRO PLAN Sterilised Adult Cat Dry Food with Optisenses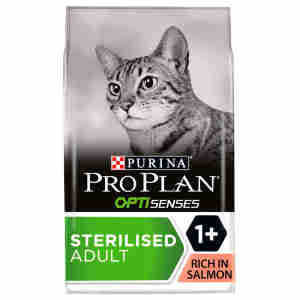 Rollover image to zoom
Product details
Purina Pro Plan Sterilised Optirenal Rich in Salmon & Rice is ideal for neutered cats, giving them all the nutrition they need and keeping their kidneys healthy.
What it's for
Neutering your cat has a number of positives, including no risk of pregnancy if she's female. Neutered male cats will also tend to spray less and stay closer to home. But has your cat been looking a little more chubby than usual? Are they feeling heavier when you pick them up? One of the most common problems neutered cats face is gaining unwanted weight. This happens because your cat's hormone levels have changed, so they won't be burning fat as well as they used to.
Your cat's body actually needs less food than before, but their appetite will probably stay the same. High-protein, low-fat foods can help your cat to feel like they've eaten a larger meal than they have so they won't need to eat as much. Feeding your kitty a dinner that's low in minerals is also a great way to help stop kidney stones. These form when minerals in your cat's food crystallise in the kidneys, creating painful stones and making it difficult for them to go to the loo.
Key benefits
salmon and rice are a yummy flavour your cat will enjoy
high-protein, low-fat food satisfies your cat while keeping weight low
balanced minerals lowers the risk of kidney stones
kibble shape helps with your cat's dental health.
How it works
The tasty flavour salmon and rice means your cat will love switching over to this delicious and healthy food. Protein makes up 41% of each dish, while fats are reduced to 12%. This makes it the ideal dinner for neutered cats. The low fat content helps keep them at the right size and weight. At the same time, it's full of fish proteins, meaning they won't need to eat as much to be satisfied – great for stopping overeating!
Because the mineral content in Purina Pro Plan Sterilised Optirenal Rich in Salmon & Rice is low, kidney stone formation is much less of a risk. The food also keeps kitty's teeth healthy. The kibble design acts like a tooth brush, removing plaque and tartar as your cat eats.
Ingredients
Composition:
Salmon (20%), maize gluten meal, rice, dehydrated poultry protein, maize, dehydrated tuna protein, wheat fibre, pea protein concentrate, wheat gluten meal, dried egg, minerals, animal fat, digest, yeast.


Dosage
Daily Feeding Recommendation (g/day)
Cat Weight Quantity
2-4 kg 30-60 g
4-6 kg 60-90 g
6-8 kg 90-130 g
Feeding quantities required to maintain ideal body condition will vary, depending on age, activity and environment. Watch your cat's weight and adjust food amounts accordingly.

Clean, fresh drinking water should always be available. For your cat's health, consult your veterinarian regularly.
Customer reviews
Product reviews are filtered by language.
The following reviews are available in English.
Excellent Product.

My 2 boy cats had been on a hypoallergenic dry cat food for some years, due to one of them having a slightly delicate digestive system. However and after finding that it's price had recently increased beyond what I felt was reasonable, I searched extensively for a suitable alternative without wishing to cut back on quality. Having tried them on small amount of several different dry cat foods, the Purina Proplan Sterilised Optirenal was the one they took to immediately and have continued to eat most enthusiastically. Being able to purchase this at a very competitive price is an added bonus, as is the prompt delivery of further orders. Wouldn't hesitate to recommend this excellent product to other cat owners.

My 2 cats love this food

Having previously been told by our vet that one of my two 7 yr old boys had a sensitive digestion, I had been successfully keeping them on a much more expensive dry food, which has recently increased considerably in price. Not wanting to cut down on quality, but looking to find something a little less expensive I've tried them on several other dry cat foods, only to find them sniffing at it and then walking away. That was until I bought this variety of ProPlan, which they have instantly taken to and are now enjoying with relish. I've also noticed an improvement in the look and feel of their coats. So pleased to have found a quality cat food at a very competitive price - will certainly be buying this again.

Purina Pro Plan Cat

The price is always competitive. And delivery is mostly 2-3 days. Very pleased with the service.

Favourite food

This is my cat Bobbie's favourite food so try to get best deal on it ,which i have found here .. on recent visit to vet for yearly check up ,she passed with flying colours i'm sure choice of cat food has a lot to do with it

Happy Cats

I order my cats food and other things, I get free delivery and it is always at my house within a couple of days. Excellent service and if I have a query that I cannot find on the internet, I just ring and there is always someone there to help.