Skip to content
Skip to navigation menu
Plaque Off Cat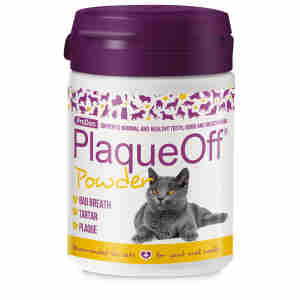 Rollover image to zoom
Product details
PlaqueOff is a patented natural feed supplement containing only especially selected seaweed. When used daily, it may significantly reduce bad breath, plaque and tartar.

PlaqueOff Cat continues to deliver all these benefits but has been specially formulated to appeal to our feline friends with a more discerning palate. By adding brewer's yeast, an ingredient which cats love, to the specially selected seaweed.
Contains approximately 6 months to 12 months supply (depending on the weight of your pet) Daily amount according to the weight of the animal, once per day. Add to wet or dry food.Brewer's yeast, an ingredient which cats love, is added to the especially selected seaweed.
Please read and follow package instructions before use.
Customer reviews
Product reviews are filtered by language.
The following reviews are available in English.
I Tried

My elderly cat is suffering from dental problem but due to a heart murmur he cannot have an anaesthetic for teeth to be cleaned. I thought id try the Plaque off powder and dental chew sticks as a way forward. The cat didn't like the powder at all and would not eat any food with even a tiny sprinkle of the powder. Whilst he plays with the cat nip chewing sticks he wont chew on them, probably due to painful gums. So overall NO improvement whatsoever

Brilliant!!!

After having our cats teeth cleaned a year ago we took her back to vets for her yearly check only to be told her teeth were covered in plaque again and would need another clean. Well at £180 a time this was proving to be expensive, especially as the vet said she was "one of those cats that is prone to plaque build up" hmmmm. We purchased Plaque off. It's brilliant, no more gunky eye's either and her coat seems to be in better condition. Have to see what vet says this year. Had to take her in a couple of months after she had teeth out and told vet we were using Plaque off. The vet wasn't keen but her teeth were CLEAN...Don't want to speak bad of the vet, but could this vet see the pound signs rolling off into the distance..Who knows!! combined with the Royal Canin dental biscuits it seems to work. Wet food in the morning with plaque off and mix of dental and normal biscuits for the rest of the day. Give it a go.

Super product

Super product. I would recomment to everyone, yes!

I bought this for my cat after the vet recommended it due to his bad gums/breath. It has taken a few months to have any impact but his breath has definitely improved. His annual check up should reveal more! Crucially, he eats it on food - unusual for a very fussy cat! Just ordered our second batch!

Very disappointed, no improvement at all to cat's breath in the 4 months the 60g pot lasted - not sure where 6 - 12 months comes from ! And the scoop & lid broke after a few days making it ackward to use. Am trying the Plaque Off Animal now. If that doesn't work, guess it's off to the vet ! :o(