Skip to content
Skip to navigation menu
You have setup the following Repeat Order: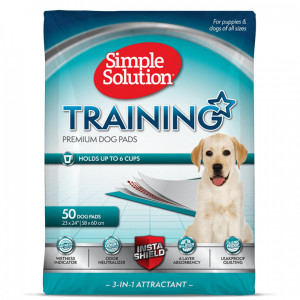 Simple Solution Puppy Training Pads
Product details
Simple Solution puppy training pads help to keep your home clean (and smelling sweet) while you toilet train your new arrival.
What it's for
Simple Solution puppy pads can be used to encourage your pet to go to the toilet where you want them to (and not in the middle of your favourite rug). Once your pup gets used to the pads, move them closer to the door and eventually outside. This helps them become familiar with going outdoors when nature calls.
These puppy pads can also be used for older dogs who can't make it outside quickly, as well as pets that live with you in high-rise blocks.
Key benefits
used pads turn blue so you know when to place a fresh one down
contains pheromones to attract puppies
locks in and neutralises nasty smells
can be used by all shapes, sizes and breeds of dog
multiple layers keep liquid locked in
twice as absorbent as Simple Solution's standard pads
How it works
These training pads have lots of layers, which lock in liquid and neutralise nasty smells. They turn blue when they're wet, so you can see straight away when it's been used and quickly change the pad for a fresh one.
Put them in areas of the house where you'd prefer your pet to use the toilet – for example, next to the back door or in a utility room. Place them plastic side down, with the absorbent tissue facing up. The pads have pheromones in them, which encourage dogs to do their business.
Start toilet training your pup by introducing them to the pad and letting them get used to the smell. Encourage them to use it by carrying them over to it regularly, until they're ready to use it. Most dogs need to use the loo after dinner, so steer them towards the pad after they've eaten. When your puppy uses the pad properly, reward them with plenty of praise and a tasty treat.
Customer reviews
Product reviews are filtered by language.
The following reviews are available in English.
Tried three or more, these are the best so far.

These pads worked really well for us while we were toilet training our Pug puppy. They were especially useful at night. Our puppy was definitely attracted to the pads and would always go on the pad rather than on the floor! He is fully potty trained now so they have served their purpose.