Skip to content
Skip to navigation menu
Add to an existing repeat order
Add to an existing repeat order
You are adding: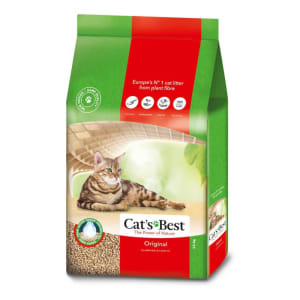 Cat's Best Original Cat Litter
To the following repeat order:
Next order due on:


Delivered every
ending
Add to an existing repeat order
Thank you, we have updated your order. Your order is due on
You're setting up the following repeat order: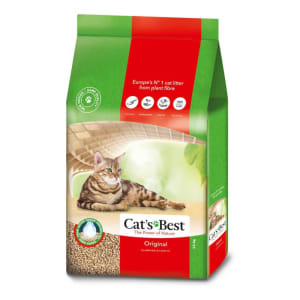 Cat's Best Original Cat Litter
Product details
Cleaning out the litter box is no-one's favourite activity! Cat's Best Original Litter takes most of the effort out of this task – and keeps any unpleasant smells at bay.
How it works
Cat's Best Original Litter is made from organic fibres that have no extra chemicals – it's completely natural. As the litter soaks up your cat's pee, it clumps together, making it easy to see and remove the dirty bits and leave the rest for later. Because you can spot-clean the tray like this, you'll have to change the litter far less often, making your stash last for longer.
Key benefits
organic
10l bag - approx 4.3kg
30l bag - approx 13.5kg
eco-friendly
subtle natural scent
super absorbent – it can soak up seven times its own weight
traps bad smells
compostable and biodegradable
can be flushed down most toilets (but check first with your local authority).
When to use it
Cats can't always (and don't always want to) go outside to do their business. Whether they're an inside pet, they're nervous of the garden, or the weather's turned gloomy, it's important to have somewhere quiet for them to go inside.
Because cats can be territorial and fussy, it's best for there to be at least one per cat and to have an extra as a spare.
If you notice your pet's unwilling to use their tray, it's important to keep your eye on the situation, as it might be the first sign of a health issue. Or it could be that they're just fussy. Some things that might spook or put off a cautious cat include their tray being too small, too big, too deep or too shallow. Dirty litter is sure to keep them away – so make sure you're keeping it up to their high standards.
Customer reviews
Product reviews are filtered by language.
The following reviews are available in English.
Brilliant Litter

Excellent cat litter - as descibed "Cats Best" Easy to remove waste from unspent litter, very economical to use despite price as there is no wastage. I have 3 cats and 2 of them use the litter.

Best cat litter

I've had cats for years, and this litter is the best I've ever got for them. No dust, no odour, and so easy to clean out.

Cats Best

Cats Best wood-based cat litter is in my opinion the very best available - for the cat, the ease of disposal and absence of odour even when soiled, and its environmental value as an addition to compost, at home or as municipal waste. It is also so light in weight as to be easily carried when fresh or soiled, even by children or frail elderly adults.

Absolutely Cats Best

Been buying this brand for years now for my 5 indoor cats. One large bag lasts approx. 6 weeks over 3 trays, so good value for money. Good product with little dust, unlike the cheaper brands on the market, but you get what you pay for. Can highly recommend.

Our favourite litter

We have had cats for thirty years and used a variety of litters during this time. This brand is our favourite. It's economical, easy to use, clumps easily making the litter tray easy to keep clean, and it contains the smells. We have used this for around six years now and won't use any other brand