Skip to content
Skip to navigation menu
Epiotic Ear cleaner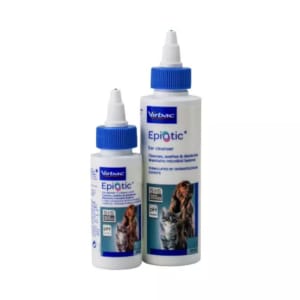 Product details
Ear cleanser for cats and dogs.
anti-adhesive formulation prevents bacterial colonisation
helps to maintain the natural microbial balance of the ear
cleanses, soothes and dries the ear effectively and gently

An aqueous, antiseptic, alcohol-free and non-irritating ear cleanser. Epi-Otic is an antiseptic, antifungal and ceruminolytic ear cleanser designed to remove crusts, dirt and scales and to dry the ear canal.
Incorporation of the active ingredients into Spherulites* provides sustained release following application. Chitosanide has a filming action that binds the Spherulites* to the skin.
Epi-Otic may be used for routine ear cleansing in dogs and cats. Epi-Otic may also be used to facilitate examination of the ear canal or prior to the administration of medicines (e.g. antibiotics) for the treatment of otitis external.
*Spherulites is a patented encapsulation system
To ensure that you read the most up to date information about this product, please check the VMD's Product Information Database.
Legal category: AVM_GSL | Product Information Database
Dosage
Shake well before use. Turn the white nozzle to open the bottle and then apply to the ear canal. Gently rub the base of the ear and then wipe the interior of the ear flap with a swab moistened with Epi-Otic. Use once or twice weekly or before each specific otitis externa treatment.

Customer reviews
Product reviews are filtered by language.
The following reviews are available in English.
Epiotic Ear cleaner

My Labrador has terrible dark wax in her ear and red and slightly inflamed. The vet prescribed Anti inflammatory injection first and inflammatory ear spray then recommended I use this once a week or when needed. Keeps her ears clean and helps keep on top of the wax. I am very pleased with this ear cleaner.

Epiotic Ear Cleaner

We have been using this product on our 2 Bichons for a few years now. It was originally recommended by the Vet. It cleans out their ears and prevents infection and does not leave a smell or any stickiness.

Epi-optic ear cleaner

Very good ear cleaner and leaves pleasant smell

Easy to use

I've used this before. Its really easy to use - the nozzle fits into the very hairy outer ear of my dogs. If I sit them on my lap I can use it one handed, a big bonus as they are inclined to wriggle when the Epi-Otic goes in. If any does get spilt it leaves a lovely smell which lasts for days.

Epi-Otic ear cleaner for dogs

Just what I ordered. Prompt service and delivery. will be ordering again when necessary.