Skip to content
Skip to navigation menu
You have setup the following Repeat Order: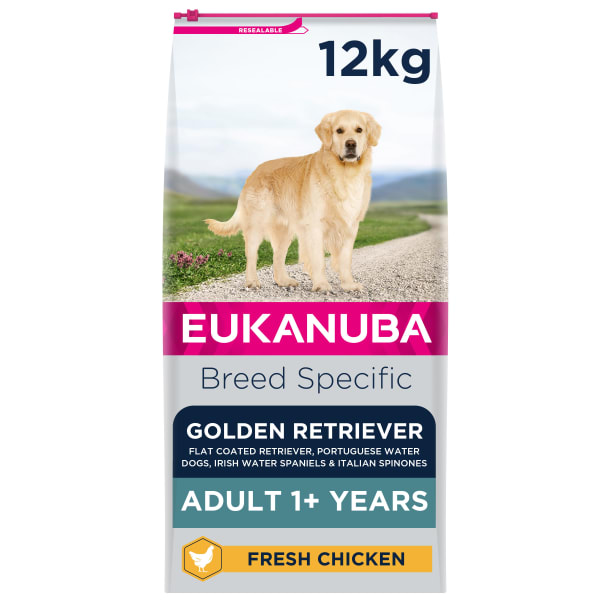 Eukanuba Breed Specific Golden Retriever
Eukanuba Breed Specific Golden Retriever
Eukanuba Golden Retriever is a complete and balanced daily food made with high quality animal based protein. It is designed to help promote a shiny coat, maintain strong muscles and body...
Read more
Eukanuba Breed Specific Golden Retriever
Back in stock notification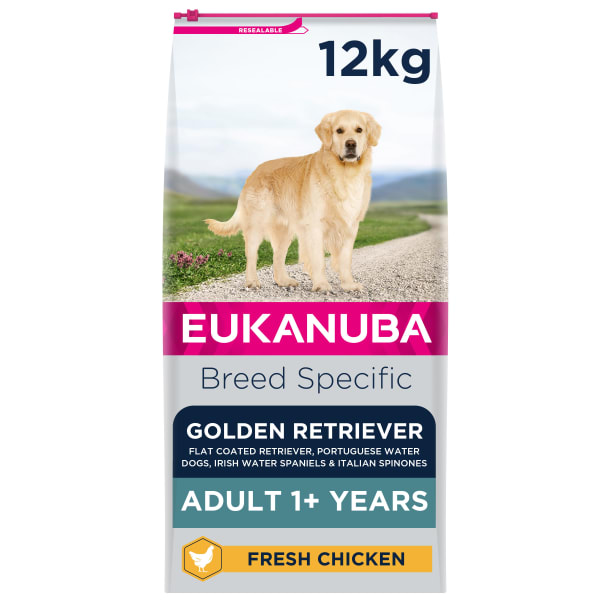 Eukanuba Breed Specific Golden Retriever
Eukanuba Breed Specific Golden Retriever
Enter your name and email address below then select which items you would like to be notified of when available.
Product details
Eukanuba Golden Retriever is a complete and balanced daily food made with high quality animal based protein. It is designed to help promote a shiny coat, maintain strong muscles and body condition, help burn fat to help control weight as well as promoting digestive health.
Lean Muscles +: 13% more protein* to help build and maintain strong muscles and body condition (*vs. Eukanuba Adult Large Breed)
Healthy Weight: Tailored level of L-Carnitine to help naturally burn fat
Optimal Digestion +: Higher level of Prebiotics* to help promote digestive health (*vs. Eukanuba Adult Large Breed)
3D Dentadefense - crunchy kibble helps remove deposits from your dog's teeth. After he eats, special minerals keep tartar-forming materials from attaching to his teeth.
Ingredients
INGREDIENTS - ANALYSIS
Ingredients
Chicken (>20%), maize, wheat, sorghum, barley, poultry meal, animal fat, dried beet pulp, chicken digest, brewer's dried yeast, dried whole egg, potassium chloride, fish oil, salt, calcium carbonate, sodium hexametaphosphate, fructooligosaccharides, linseed, DL-Methionine, glucosamine hydrochloride, chondroitin sulphate.

Analysis:
Crude Protein:26. 0%, Crude Oil:13. 0%, Crude Ash:7. 0%, Crude Fibre:3. 0%, Moisture:8. 0%, Calcium:1. 20%, Phosphorus P:1. 0%

Additives per kg:
Vitamin A:12000 IU, Vitamin D :900 IU, Vitamin E ( -tocopherol):200 mg, Copper as Copper II Sulphate:25 mg, L-Carnitine:50 mg, -carotene:1 mg No colorants, flavourings or preservatives added.
Dosage
Eukanuba Breed Nutrition Adult Golden Retriever
When feeding for the first time gradually introduce Eukanuba into your dog's diet over a period of 4 days. We recommend feeding your dog twice a day. Divide the daily amount shown in the chart by the number of meals. Your dog may eat more or less depending on age, temperament and activity level.

For feeding guidelines, see feeding chart.

Always have plenty of fresh water available for your dog to drink.


| | |
| --- | --- |
| Body weight | Grams per day |
| | |
| 15kg | 155 |
| 20kg | 185 |
| 25kg | 215 |
| 30kg | 245 |
| 35kg | 270 |
| 40kg | 300 |
| 45kg | 320 |
Feeding The Correct Amount
It is important to remember however that these figures are guidelines only, and there are several factors to be taken into account when assessing your pet's nutritional requirements : -
Activity level
Temperament (stressed animals burn off more calories than relaxed ones)
Metabolism (every animal is an individual with his or her own speed of metabolism; this means that 2 dogs of the same age, breed and weight could have different daily calorie requirements)
In order to provide the correct portions when feeding your dog or cat, it is also helpful to assess your pet's appetite, visual appearance and stools. Whilst poo watching does not sound particularly pleasant, it is one of the best indicators of health. Increased frequency of passing faeces, production of large quantities of stools of loose motions are often frequent signs that an animal is receiving more food than he or she requires.
It is important to obtain an accurate weight for your cat or dog, and also to weigh out the food. Guessing on both accounts gives a large margin of error.
Changing Food Brands
For a successful diet change, we recommend following the feeding pattern below. The daily feeding amount should be split into two equal amounts and the proportions of new food increased over the first week as illustrated.

TOP TIPS: For those dogs who do not make eating a priority, here are some additional points:
- Reduce the number of tit-bits given during the introductory period
- If your dog has been used to eating wet food, moisten with warm water.
DAY 1-2

75% Original Diet
25% New Food
DAY 3-4

50% Original Diet
50% New Food
DAY 5-6

25% Original Diet
75% New Food
Customer reviews
Product reviews are filtered by language.
The following reviews are available in English.
Eukanuba for Goden Retriever

This suits my dog very well. It is what appears to be recommended for all "Asstance" dogs both here and in the U.S. Holly is an ex Guide Dog and it is what she is used to.

Not for my boy!

I have the greediest golden retreiver in the world, he will eat anything. I introduced this food gradually as normal but he has been fed on it solely for the past week or so. He is reluctant to eat it and will usually eat some and leave the rest till later. He clearly doesn't enjoy it at all so, although I'm sure it's good food, I will certainly not be repurchasing it.

The three retriever love it

My retrievers love this and woof it down their stools are firm

My Goldie won't eat it!

I started my Goldie on this after using the Eukanuba large breed puppy food (which he loved) for his first year. He won't touch this food unless i mix something else in with it. it will go untouched all day. i don't think i will buy this particular product again. I've seen other similar reviews so i think it may be something to do with the product rather than the dog. As you probably know, Goldies aren't usually fussy eaters.

My goldie loves it!

Been through quite a number of different foods trying to find one she approves of, finally found this one and now wouldn't give her anything else. Great value for money, gives her a super shiny coat and has kept her at a maintained weight for the last 12 months. Vet is just as pleased as me. Couldn't recommend enough.