Skip to content
Skip to navigation menu
Eukanuba Dog Veterinary Diet Intestinal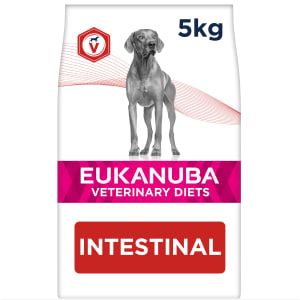 Product details
Eukanuba dog veterinary diet intestinal has been designed for dogs with stomach problems, and has everything they need to live a healthy, happy, and normal life.

What it's for
If your dog has problems with their stomach and digestion, then it can make finding the right food for them tricky. This food can help to relieve some of the problems that come with a stomach disorder, and make sure that things don't get any worse for your pooch. Some stomach problems are caused by a buildup of bad bacteria on the walls of your dog's digestive system. Eukanuba dog veterinary diet intestinal helps to stop these buildups, and makes sure that your furry friend gets rid of them when they go to the toilet.
If your pet is being sick a lot, has a lot of wind, or seems to be a bit weaker and less active than usual, make sure to see your vet as soon as possible ' these are all signs of gastrointestinal problems.

Key benefits
omega-3 and omega-6 help manage inflammation
contributes to healthy joints
removes excess harmful bacteria from your pet's stomach
specially designed for dogs with gastrointestinal problems
vitamin E boosts the immune system.
How it works
This food contains MOS, also called mannan oligosaccharides, which can help to prevent harmful bacteria building up inside your dog's stomach. These bacteria are a common cause of intestinal problems if left unchecked, so Eukanuba dog veterinary diet intestinal makes sure these bacteria are removed naturally.
Natural fish oils help to soothe any inflammation that might be caused as a result of your pet's condition, and they're also very good for their joints. Vitamin E further helps to fight bad bacteria by boosting your furry pal's immune system.
Ingredients
Ingredients
Eukanuba Veterinary Diets Canine Intestinal Formula for Dogs Dry - Maize grits, Dried Chicken and Turkey, maize, rice, dried whole egg, dried beet pulp (3.3%), chicken digest, animal fat, fructooligosaccharides (1.0%), brewer's dried yeast, potassium chloride, linseed, sodium hexametaphosphate, calcium carbonate, fish oil, mannanoligosaccharides (0.19%), sodium chloride.
Eukanuba Veterinary Diets Canine Intestinal Formula for Dogs Cans- Chicken, ocean fish, rice, maize grits, chicken liver,
beef by-products, chicken byproducts, fish meal, dried whole egg, dried beet pulp, fish oil, fructooligosaccharides, potassium chloride, calcium carbonate, monosodium phosphate, sodium chloride, mannanoligosaccharides, dicalcium phosphate.
Additional Information
Eukanuba Veterinary Diets Canine Intestinal Formula for Dogs
Feeding Guide - Dry Diet
| Weight kg | g per day |
| --- | --- |
| 2kg | 45-55 g |
| 5kg | 85-95 g |
| 10kg | 135-150 g |
| 20kg | 210-235 g |
| 30kg | 280-310 g |
| 40kg | 340-375 g |
| 50kg | 390-435 g |
| 60kg | 445-495 g |
| 70kg | 490-545 g |
Weight Feeding in cans/day

| Weight kg | Cans/day |
| --- | --- |
| 3kg-5kg | ½-⅔ |
| 10kg-15kg | 1-1½ |
| 20kg-25kg | 1¾-2 |
| 30kg-35kg | 2⅓-2⅔ |
| 40kg-45kg | 2¾-3 |
Composed with the Online HTML Editor. Please subscribe to HTML G to remove this message.
Customer reviews
Product reviews are filtered by language.
The following reviews are available in English.
Eukanuba Intestinal Dog Food

My 10 year old Dalmatian has had stomach upsets in the last year. He is now much better as I changed his food to Eukanuba Intestinal a few months ago. My Vet said to keep him on this food. It definitely has settled his sensitive stomach. I am glad I did my research.

Good work!!

Fast delivery. I couldn't find this product anywhere else. Great job MedicAnimal!

Eukanuba Dog Veterinary Diet Intestinal

I found an unbeatable offer for this product which is the only one which keeps my dog's tummy settled. Delivery was swift and the entire ordering process simple. I now find I have credit points for my next purchase. I will certainly shop with medicanimal.com in future. One happy dog and a happy owner.

Eukanuba Intestinal

Great food for an elderly dog who had tummy problems. This food has helped immensely.

Buying Abroad

We live abroad in Luxembourg and following Our dogs tummy upset, the vet recommended the Eukanuba Intestinal biscuits. Tried to find them locally but without success so looked at the Internet and came across the Pet Supermarket. we were travelling back to the UK by car anyway & not really ideal to transport as hand luggage! so stocked up with three 12kg bags. They arrived at my sisters house in good time and perfect condition, not to mention the great value for money. We'll definitely be using Pet Supermarket again. Well done!