Skip to content
Skip to navigation menu
IAMS for Vitality Adult Small/Medium Breed Dog Food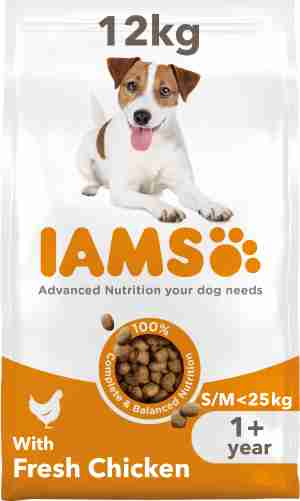 Rollover image to zoom
Product details
Feed IAMS Dog Adult Small & Medium Breed to your small or medium-sized dog to make sure they're getting all the goodness they need.
What it's for
Because smaller dogs can be prone to tummy trouble and other infections, it's important to feed them something that will keep them healthy and help them fight off disease. Your dog's immune system is naturally designed to protect them from viruses and bacteria that can cause illness, and you can help it do its job by making sure your dog has lots of antioxidants and healthy fibre in their diet.
To save having to mess about with lots of different foods, the easiest way to feed your pooch a healthy, balanced diet is by choosing a really good quality complete food. Complete foods like IAMS Small & Medium Breed Adult Dog are designed to give your dog everything they need from each meal.
Key benefits
high protein content helps muscles be strong and healthy
antioxidants give extra support to your dog's immune system and do away with harmful free radicals
omega-6 and omega-3 fatty acids are great for your dog's heart and circulation
lots of fibre keeps your dog's digestive system healthy
specially designed kibble helps keep teeth clean and makes tartar less likely.
How it works
IAMS Small & Medium Breed Adult Dog is designed to improve your small or medium dog's all-round health.
Lots of delicious chicken protein keeps your dog's muscles strong even if they're worn out through lots of exercise, and helps them repair themselves properly. Fatty acids called omega-3 and omega-6 take care of your dog's skin, by mending damaged skin tissue and keeping their fur soft, shiny and strokable. As well as looking and feeling amazing, a healthy skin and coat will help your dog protect him or herself against infection.
Antioxidants in the food give your dog's immune system a boost to deal with any illness or infection they come into contact with. Plenty of antioxidants are also important because they help neutralise free radicals in your dog's body – molecules that can damage cells and cause cancer.
Sensitive tummies are taken care of by a high level of fibre in the food, which is gentle on your dog's digestive system and helps it process food more slowly. To keep teeth squeaky clean, this food's kibble are specially designed to scrub your dog's teeth as they chew, to fight plaque and tartar build-up.
Ingredients
Iams Adult Small Medium Breed Rich Chicken
INGREDIENTS - ANALYSIS
Ingredients
Dried Chicken and Turkey (>25%), maize, wheat, animal fat, dried beet pulp, sorghum, barley, chicken digest, dried whole egg, brewer's dried yeast, potassium chloride, sodium chloride, calcium carbonate, sodium hexametaphosphate, linseed, fructooligosaccharides (0.15%), linseed.
Analysis
Protein 26%, Fat content 15%, , crude ash 7.4%, crude fibres 3%, moisture 8%, Calcium 1.3%, Phosphorus 1%, Vitamin A 14,000 IU/kg, Vitamin D3 900 IU/kg, Vitamin E (ά-tocopherol) 140mg/kg. Additives:
Vitamins: Vitamin A:14000 IU/kg, Vitamin D3:900 IU/kg, Vitamin E (α-tocopherol):140
mg/kg, Trace elements: Iron as Ferrous Sulphate, heptahydrate:221 mg/kg, Zinc as Zinc
Oxide:184 mg/kg, Manganese as Manganous Oxide:25 mg/kg, Manganese as Manganous
Sulphate, monohydrate:18 mg/kg, Copper as Cupric Sulphate, pentahydrate:14 mg/kg, Iodine as Potassium Iodide:3 mg/kg, Cobalt as Basic Cobaltous Carbonate, monohydrate:0.5 mg/kg.
Additional Information
| Weight (kg) | g / day |
| --- | --- |
| 2 | 45g - 50g |
| 4 | 70g - 75g |
| 6 | 90g - 100g |
| 8 | 110g - 120g |
| 10 | 125g - 140g |
| 15 | 165g - 185g |
| 20 | 200g - 225g |
| 25 | 235g - 260g |
These guideline amounts are a starting point and your dog may need more food depending upon age, activity and temperament. In order to reach optimal body condition, you may need to adjust food intake. This represents the total recommended volume of food per day. You should divide the total recommended feeding amount by thenumber of times you feed your dog per day to get the actual portion size perfeeding. Remember to have clean, fresh water available for your dog at all times. When introducing Iams Dog Food, gradually mix it with your dog's current food over the course of 4 days.
Customer reviews
Product reviews are filtered by language.
The following reviews are available in English.
Iams

Great service and good price

Excelent Product

Have been feeding this to my dogs for the last 30 years and my present dogs are 15 years old and fit as a fiddle. Good price and quick delivery.

Dog food

Good service as usual and a fair price.

Iams

Excellent quick service, great product. And good prices.

I ams

Buyin this for over a year my dog loves it great value for money and free delivery excellent service thankyou jackie