Skip to content
Skip to navigation menu
Lily's Kitchen Chicken Everyday Favourites Multipack for Cats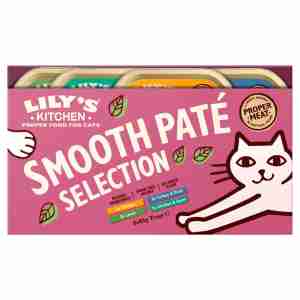 Rollover image to zoom
Product details
Lily's Kitchen Chicken Everyday Favourites Multipack comes with four different flavoured foods, full the essential nutrients your inquisitive feline needs.
What it's for
Cats get bored with their food if you feed them the same thing every day, and in that respect, they're not so different from us humans. A great way to keep them interested at mealtimes is to vary what's on offer through the week with a multipack. This pack has four flavours, so there's plenty of variety on offer to keep your cat happy. They're meaty, nutritious and delicious, so they're sure to keep your pet satisfied. If you're concerned about your cat not eating, then do make sure to speak to your vet who can check if there might be another cause.
Key benefits
all ingredients are sustainably sourced and natural
no added grain
added taurine to help maintain eye health
no animal derivatives
four different flavours
recyclable trays
includes the essential vitamins and minerals your pet needs
How it works
There's four flavours included in this pack: Whisker Lickin' Chicken, Lovely Lamb Casserole, Poultry Pie and Hunter's Hotpot. Every recipe is made with 65% meat, and they include offal too, which cats love. Minerals have been added to help your cat absorb moisture when they eat, so they stay healthy and hydrated. The recipes are grain-free, so even if your pet has a sensitive tummy, they can enjoy all of the flavours of this multipack without any discomfort. Each pack contains taurine, too, which is helps their eyes and heart to stay healthy. All ingredients are sustainably sourced, and the trays a recyclable, so you can look after the environment as well as your pet.
Ingredients
Composition:
Whisker Lickin' Chicken
Chicken 65%, Salmon Oil, Chelated Minerals.
Lovely Lamb Casserole
Lamb 30%, Chicken 20%, Pork 15%, Salmon Oil, Chelated Minerals.
Poultry Pie
Turkey 50%, Duck 15%, Salmon Oil, Chelated Minerals.
Hunters Hotpot
Chicken 25%, Game 15%, Pork 15%, Turkey 10%, Salmon Oil, Chelated Minerals.
Analytical Constitutes per 100g
Crude Protein 10%, Crude Oil & Fats 5.5%, Crude Ash 2.2%, Crude Fibres 0.3%, Moisture 82%, Taurine 723mg/kg. 81kcal/100g.
Nutritional Additives per kg
Vitamin D 100 IU. Trace Elements (per kg): Zinc Chelate of Amino Acids Hydrate 40mg, Cupric Chelate of Amino Acids Hydrate 2mg, Manganous Chelate of Amino Acids Hydrate 1.6mg, Calcium Iodate Anhydrous 0.78mg. Technological Additives (per kg): Carrageenan 5.3mg.
Feeding Guide