Skip to content
Skip to navigation menu
Royal Canin Canine Senior Consult Mature Large Dog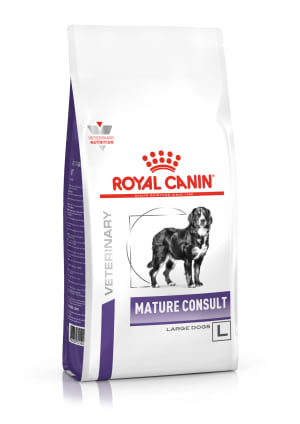 Product details
Royal Canin Canine Senior Consult Mature Large Dog has all the nutrition most older large breed dogs need for a healthy and happy life, with added ingredients to boost joint and bone health.
What it's for
As dogs grow older they become more likely to develop health conditions. One of the most common is arthritis, which makes the joints swell up painfully. Dogs with arthritis usually find it hard to get around like they used to and will be a bit stiff. They probably won't be keen on games of catch anymore. If they have joint pain you'll probably notice them licking or chewing at the sore area. As your dog gets older, they need a healthier diet to boost their defences against diseases like arthritis as well as kidney problems and dementia. This food is packed with nutrients and antioxidants to help your dog live a longer and happier life.
Key benefits
specially formulated for ageing dogs
mix of nutrients supports brain and vitality
complete and balanced to keep your dog healthy
supports lean muscle mass
added glucosamine is good for joint and bone health maintains digestive system.
How it works
As dogs age they need more nutrients, and this food has been carefully blended to make sure they have everything they need to be healthy. All of the nutrients have been specially selected to help boost healthy brain function. They also improve your dog's vitality levels, helping them get out and active. They may not be a young pup, but they can still enjoy a romp in the park!
The food is a great source of glucosamine, an ingredient that can help strengthen joints and bones. The balance of ingredients helps to keep your dog's muscles strong and healthy as they grow older. The recipe includes hydrolysed animal proteins, which means they're broken up into tiny molecules. These are easy for your dog to digest, putting less strain on their system and giving them more nutrition from every mouthful. The vegetable fibres also help keep your dog's digestive health on track.
The food's fortified with antioxidants, which boost your dog's immune system and reduce the number of free radicals in their body. Free radicals are molecules that attack healthy cells and can lead to nasty diseases.
Veterinary diets like this one have been specially made to support pets with specific medical conditions. Because of this, they might not be suitable for all pets, so we'd recommend getting professional advice before feeding them to your pet. If you think your dog could benefit from eating Royal Canin Canine Senior Consult Mature Large Dog, why not have a chat with your vet?
Customer reviews
Product reviews are filtered by language.
The following reviews are available in English.
Royal canin mature

My dog diesel love them.