Skip to content
Skip to navigation menu
You have setup the following Repeat Order: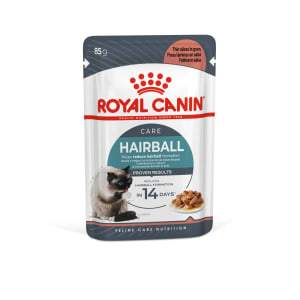 Royal Canin Intense Hairball 34 Adult Wet Cat Food - Gravy
Royal Canin Intense Hairball 34 Adult Wet Cat Food - Gravy
Product details
AWAITING REPLENISHMENT. ALTERNATIVES CLICK HERE
Cats often spend large parts of its day self-grooming, and can therefore swallow large quantities of hair. This ingested hair can become compacted in the digestive tract, resulting in the formation of hairballs which are then either regurgitated or eliminated through its faeces.
The specific blend of dietary fibres, including psyllium (rich in mucilage) and insoluble fibres have been included to help naturally stimulate healthy intestinal transit. This naturally then reduces the amount of hair swallowed daily building up in its stomach and is passed as faeces rather than being regurgitated.
Royal Canin Hairball Care contains a precise combination of nutrients with a high protein content (34%) and a high fat content (15%) to ensure that a healthy level of nutrients is maintained effectively.
ROYAL CANIN® Hairball Care has been proven to eliminate twice as much excess hair in a cat's body after just 14 days of feeding.
Product Benefits
Composed of a specific blend to reduce hairballs
Complete balanced meal for adult cats
Blend of minerals to keep the urinary tract healthy
Amino acids for a strong heart and bright eyes
Dietary fibres keep excess hair moving through the gut
Twice as effective at preventing hairballs than regular food
Ingredients
Feeding Guide
Dosage
Recommended daily quantities (g/day):
| Weight kg | Moderate Energy Needs Ideal body condition | Low Energy Needs Tendency to be overweight g per day |
| --- | --- | --- |
| 3 kg | 45 g | 36 g |
| 4 kg | 55 g | 44 g |
| 5 kg | 65 g | 52 g |
| 6 kg | 74 g | 59 g |

Click here to check your cat's body condition

Water should be available at all times

We remind you of the necessity of watching your cat's body condition, and regular visits to your veterinary