Skip to content
Skip to navigation menu
YuMOVE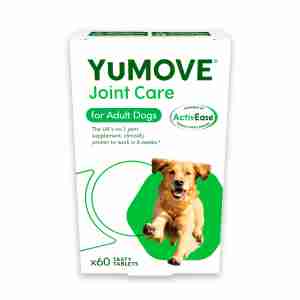 Rollover image to zoom
Product details
YuMOVE is the all-in-one solution for pet joint pain. It's been proven by the Royal Veterinary College to work in just six weeks, so your pet could be back to their sprightly self sooner than you thought.
How it works
YuMOVE acts quickly to loosen up your dog's stiff joints. Omega-3 fatty acids soothe the swellings in the joints that cause your pet discomfort. The hyaluronic acid in these pills gets to the joint in just two hours and gently lubricates it to protect it from friction so that your dog can move more easily. Glucosamine promotes cartilage growth which helps bind the joint together.
Key benefits
made out of Green Lipped Mussels, ethically sourced from New Zealand, and other carefully selected natural ingredients
a concentrated source of omega 3, hyaluronic acid, glucosamine and manganese for healthy joints
can be used as part of an established routine or as needed.
When to use it
Unfortunately, soreness in the hips, elbow and back is relatively common in older dogs and young dogs who suffer from conditions like arthritis. If your dog is limping, moving awkwardly or having trouble staying standing for long periods of time, YuMOVE can help them exercise and play more easily.
You can either feed them a pill daily with their food or give them one every so often if you notice that they're becoming reluctant to move. Because YuMOVE promotes the growth of healthy joints, you can even give it to them as a preventative measure before any issues with mobility develop.
Ingredients
VitaEase, Glucosamine HCI, Manganese, Vitamins C & E, Hyaluronic Acid.
Dosage
Feeding Guide:
| | |
| --- | --- |
| Small Breeds | (up to 15kg) 1 Tablet |
| Medium Breeds | (16-30kg) 2 Tablets |
| Large Breeds | (31-45kg) 3 Tablets |
| Very Large Breeds | (Over 45kg) 4 Tablets |
This can be given as a treat or simply added to their food daily. Double the daily recommendation for the first 4-6 weeks.
Customer reviews
Product reviews are filtered by language.
The following reviews are available in English.
YuMOVE works

Our cocker spaniel had a limp so off to the vets and the anti-inflammatories worked until they ran out but the limp would not clear up so after several visits at the vets at some expense we tried YuMove. After only a week there was a marked improvement in our 8 year old cocker and after just over a month he is back to his playful self. Am continuing to give him occasional tablets to ward off his diagnosed arthritis. Whether or not the vets diagnosis is correct YuMove appears to work.

Yumove joint care for dogs

Wow it really works. My jack Russell who is 12 years old has more mobility in her front legs which she suffers from arthritis

Yumove

My dog had a limp which i could only assume had happened on his run on the beach , i was worried it was a fracture so i took him to my vet, She wanted to x ray or scan him which i couldnt afford so a friend reccomended yumove as her dog had a similar limp with no obvious pain or swelling and has been dignosed with mild arthritis, and since being on yumove his limp has dissapeared and hes back to his normal happy self .

Labrador lover

I have had my 12 year old Labrador on these for 3 years after other dog owners recommended them. He runs around with my 2 year old Labrador with a joy of life. So grateful to have found Yumove. Couldn't recommend them more highly.

Real improvement

My nearly 12 year old Pointer had a degree of stiffness in his shoulder which was clearly causing him discomfort. Pain killing products caused him to behave as if he were 3 again - lovely but likely to cause more damage! I wanted something to address the actual problem rather than just mask the symptoms. He has been on Yumove for a couple of weeks now, and there has been a definite improvement. The stiffness has diminished markedly and he has been playing happily, whilst not pretending that he is a pup again! As other reviewers have mentioned, there are no problems over getting him to eat the tablets : he clearly feels that they taste fine. I am really pleased with his improvement so far. I have rated 4 rather than 5 star only because he has not been taking the tablets for very long.