Skip to content
Skip to navigation menu
Advantage 400 for Dogs 25kg plus - 4 pipettes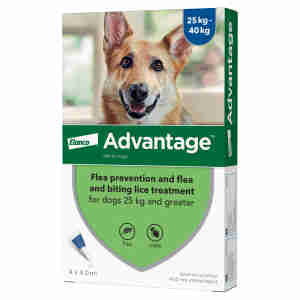 Rollover image to zoom
Product details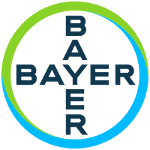 Trusted Supplier

Advantage is a spot-on Flea treatment.
Fastest relief from painful flea bites
Stops fleas biting in 3-5 minutes. The only product to kill fleas on contact, without the need to bite. So pets suffer less of those painful flea bites and less Flea Allergy Dermatitis (FAD).
Breaks the flea life cycle
Prevents infestation if your treated pet comes into contact with other pets with fleas. Kills adult fleas and flea larvae within 20 minutes of contact.
Dogs can contract some types of worms from flea eggs. It is recommended that you treat your dog for worms every 3 months with Drontal XL tablets.
Lasts all month and easy to use
Simply squeeze onto the back of your dog's neck. It then spreads across the skin and through the coat, where it is effective against fleas for 1 month.
Advantage is waterproof
Advantage remains effective following soap-free shampoo treatment, bathing or exposure to rain.
Advantage is safe and effective
Advantage is so safe it can be used on puppies and dogs aged 7 weeks and older weighing between 25-40kg. It can also be used on pregnant and lactating bitches.
Each vial contains 4 ml (400 mg imidacloprid) and 0.1% butylated hydroxytoluene (E321) as a preservative.
For dogs weighing 25kg to less than 40kg, use one Advantage 400 (4.0ml) pipette, as directed on package leaflet.
For dogs weighing 40kg or over, use two Advantage 400 (4.0ml) pipettes, as directed on package leaflet.
To ensure that you read the most up to date information about this product, please check the VMD's Product Information Database.
Legal category: NFA_VPS | Advantage 400 for Dogs 25kg plus
Ingredients
Each tube contains 4.0 ml (400 mg imidacloprid). The product also contains benzyl alcohol and butylhydroxytoluene (E321) as an antioxidant.
Warnings
Do not treat unweaned puppies of less than 8 weeks of age.
Do not use in animals that are known to be hypersensitive to the active substance or any of the excipients.
Dosage
| | | | | | |
| --- | --- | --- | --- | --- | --- |
| Dog Weight | Product | Quantity | Frequency | Worming Treatment | Frequency |
| 26 kg - 30 kg | Advantage 400 | One pipette | Monthly | | Every 3 Months |
| 31 kg - 35 kg | Advantage 400 | One pipette | Monthly | | Every 3 Months |
| 36kg - 40kg | Advantage 400 | One pipette | Monthly | | Every 3 Months |
Customer reviews
Product reviews are filtered by language.
The following reviews are available in English.
Advantage dogs

Good price and good service use this product on my dogs with excellent results

advantage dogs

good prices and brilliant service use these all the time on my dog with no problems

Advantage plus

Great product. Been using for a few years now. I use the cats ones as well. I started using this product after having a bad batch from another brand. It sorted the problem out really quickly. Delivery is fast. Overall a great product. Hopefully haven't jinxed myself lol

Dog and Cat treatments

Efficient service, good prices

advantage dog

Briliant product, brilliant service.