Skip to content
Skip to navigation menu
Advantage 400 for Dogs 25kg plus - 4 pipettes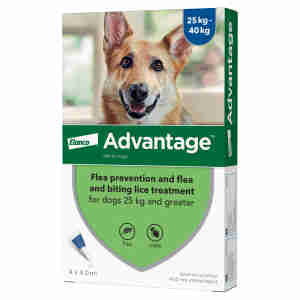 Rollover image to zoom
Product details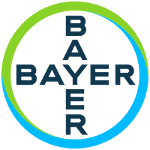 Trusted Supplier
Please be aware that this medicine can only be supplied for a maximum of one year treatment per animal.

Advantage 400 for Dogs 25 Kilograms Plus can help to keep your dog free from fleas.
What it's for
Your dog can pick fleas up from almost anywhere, whether they're having a romp in the garden or park, or playing with next door's pooch. The constant bites will annoy and irritate your dog. Fleas can also jump very far, and can easily infect your house or other pets. It's quite a common problem for any pet, but this treatment is simple, easy and painless. If your dog does have fleas, they'll probably start scratching a lot more and could also have red patches of skin where the fleas have bitten them. You might be able to spot them if you part your dog's fur. Fleas often hide around the tail and paws, so check there too.
Key benefits
Advantage quickly relieves your dog from irritating flea bites
kills fleas on contact within minutes
kills flea larvae on your dog, and in the home too
protects your dog from fleas for up to four weeks.
How it works
Some flea treatments work by coating your dog's skin. That means that the fleas need to bite your dog for it to work. Advantage 400 works as soon as it touches the fleas, which makes it a much more comfortable way to help your dog. It also kills fleas in as little as three to five minutes.
The treatment acts fast so your dog gets quick relief. They'll be back to stealing dad's slippers like their old happy self before you know it! Once you've treated your dog, it will help protect them from any future flea infestations for up to four weeks as well. Advantage 400 for Dogs 25 Kilograms Plus will also kill any fleas or larvae that are in your home, so you can stop them spreading too.
The treatment is also waterproof, so there's no escaping that much-needed bath after a run through the fields. If you have other pets, make sure to check out our range of flea treatments for them, too.
To ensure that you read the most up to date information about this product, please check the VMD's Product Information Database.
Legal category: NFA_VPS | Advantage 400 for Dogs 25kg plus
Ingredients
Each tube contains 4.0 ml (400 mg imidacloprid). The product also contains benzyl alcohol and butylhydroxytoluene (E321) as an antioxidant.
Warnings
Do not treat unweaned puppies of less than 8 weeks of age.
Do not use in animals that are known to be hypersensitive to the active substance or any of the excipients.
Dosage
| | | |
| --- | --- | --- |
| Dog Weight | Product | Quantity |
| 26 Kg - 30 Kg | Advantage 400 | One pipette |
| 31 Kg - 35 Kg | Advantage 400 | One pipette |
| 36Kg -40 Kg | Advantage 400 | One pipette |
Customer reviews
Product reviews are filtered by language.
The following reviews are available in English.
advantage dog

Briliant product, brilliant service.

Great Product

This is a great product to use on my dog who has a fascination for the hedgehogs that come into the garden. I buy online as it is more convenient and the price is good too. I like the reminders to say when it's time to use the next dose. The only gripe I have is the delivery, from order to dispatch and actually receiving the product seems rather long or maybe it's me. I can be waiting a week. Other than that I am happy and so is the dog!

Flea stuff

As described, easy ordering and prompt delivery.

really good

These are very good works straight away .Every 4 weeks I do this for my dog .Good price cheaper then the shops .

Great price

Great price for the product