Skip to content
Skip to navigation menu
Burgess Excel Adult Rabbit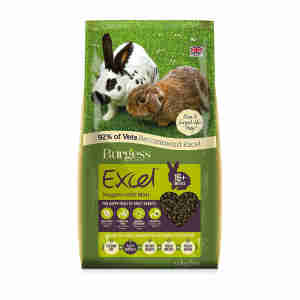 Rollover image to zoom
Product details
These yummy, minty Burgess Excel adult rabbit nuggets are packed with healthy ingredients your rabbit will love.

What it's for
Burgess Excel adult rabbit food is designed to complement a healthy rabbit diet of 85-90% grass and hay, making sure they get everything they need. Each nugget is packed with lots of vitamins and minerals as well as healthy prebiotics to keep your little friend's immune system on top form. Because they're suitable for rabbits from four months to five years old, your pet will love these mint-flavoured nuggets for years to come.
All-in-one nuggets are a great alternative for rabbits who have a bad habit of being picky about muesli, sometimes only eating the sweet parts and skipping the fibrous leafy greens. Each Burgess nugget is packed with 39% fibre to aid digestion, so you know your pet is getting the full benefit of all that grass and hay.

Key features
all-in-one nuggets contain goodness in every bite
recommended for rabbits aged between four months and five years
packed with fibre to help tummies with digestion
tasty mint flavour – perfect muesli alternative for picky eaters
full of vitamins and minerals for healthy eyes, skin and coat
can make up 10-15% of your pet's diet
How it works
Although hay and grass should make up most of your rabbit's food, they don't contain everything rabbits need for healthy lives. That 's why each nugget is packed with prebiotics, vitamins and minerals that support great eyesight and a healthy coat, along with lots of fibre to help them absorb all the goodness. Plus, the yummy minty taste encourages rabbits to eat the whole bowl or handful – just make sure to follow the feeding guidelines of 20–25 grams per kilogram of body weight.
Ingredients
Composition:
Grass, wheat, oat feed, soya bean hulls, peas, yeast, mint (1.25%), soya oil, dicalcium phosphate, salt, short chain fructo-oligosaccharides (0.2%), limestone, minerals.
Analytical constituents:
Crude protein 13%, crude oils and fats 4%, beneficial fibre 39%, crude fibre 19%, crude ash 6.5%, sodium 0.18%, calcium 0.75%, phosphorus 0.5%.
Nutritional additives:
Vitamin A (retinyl acetate) (E672) 25,000 IU/kg, itamin D3 (cholecalciferol) (E671) 2,000 IU/kg, Vitamin E (dl Alpha tocopherol acetate) (3a700) 155mg/kg, Vitamin C (L-ascorbic acid monophosphate) 70mg/kg, Copper (Copper Sulphate Pentahydrate) (E4) 28mg/kg, Iodine (Calcium Iodate Anhydrous) (E2) 2.34mg/kg, Selenium (Sodium Selenite) (E8) 0.55mg/kg, Iron (Ferrous Sulphate Monohydrate) (E1) 133mg/kg, Manganese (Manganous Oxide) (E5) 16.1mg/k, Zinc Oxide (E6) 139mg/kg, DL methionine 140mg/kg.
Feeding Guide
Recommended quantity/day:
Adult rabbit
| | |
| --- | --- |
| Dutch rabbit | English rabbit |
| 2-2.3 kg | 2.7-3.6 kg |
| 50-60 g | 70-100 g |
Always make sure your rabbit has access to plenty of water.
Customer reviews
Product reviews are filtered by language.
The following reviews are available in English.
5/5

Nice to actually find a good my rabbits would eat, great nutrition and great value.

Highly recommended

Used these since day one of owning rabbits and it's been a brilliant product and worth the money. I use this brand for my dog and Guineas pigs and have no fault with them what so ever!

Great product

Have always used this product for all my rabbits and have always been very satisfied with it. Rabbits enjoy it and is easy to give the recommended amount daily.

Excel Burgess Rabbit Pellets

Great price & quick delivery, I would recommend to friends and family & use them again. My rabbit loves them.

Burst bag

Great product used it for years. Bought off MedicAnimal numerous times. Disappointed with the last delivery bag was split in the box. Five stars is for the product.