Skip to content
Skip to navigation menu
Enzymatic Toothpaste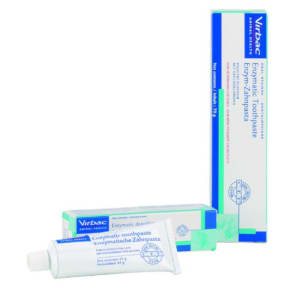 Product details
Keep your furry friend's mouth fresh and clean with this easy-to-use Virbac poultry flavour enzymatic toothpaste.
What it's for
Being your dog's personal dentist isn't always easy, so Virbac's no-rinse enzymatic toothpaste is designed to make brushing their mouth quicker and simpler for both you and your dog. This is important – you can't always see doggy dental problems until they're serious, so regular brushing sessions are extra important. By interrupting the formation of plaque and tartar, you can reduce your pet's risk of gum disease or tooth loss, as well as improving their breath and overall health.
Key benefits
yummy poultry flavour most dogs will love
safe to swallow
contains patented enzyme technology
fights plaque and reduces tartar build-up
improves your dog's breath
for regular use
How it works
Like human mouths, bacteria in your pet's chops can turn into a film of plaque, which hardens into tartar and contributes to gum disease. Poor dental hygiene can lead to decay, gum disease and tooth loss, not to mention potential internal problems if the bacteria build-up gets into the bloodstream or digestive system, so it's vital you brush your pet's teeth regularly. However, human toothpaste is dangerous for dogs, so it's important to use a doggy-friendly version instead.
Virbac doggy toothpaste contains their specially designed C.E.T Dual Enzyme System, which is engineered to fight against oral bacteria. The name might be a bit of a mouthful, but the paste is dog-friendly and safe to swallow, so there's no need to rinse afterwards – making the process quicker and easier for your dog. Plus, unlike minty pastes, the yummy poultry flavour can even help fussy dogs to enjoy the whole thing.
Customer reviews
Product reviews are filtered by language.
The following reviews are available in English.
Dog toothpaste

ALWAYS HAVE THIS FOR MY DOGS FROM YOU. Very efficient service and keeps my dogs teeth very clean

Poultry flavour Enzamatic toothpaste.

This toothpaste is brilliant for my dog, he seems to look forward too having his teeth cleaned, he has them done twice a day, I use the Logic toothpaste before he goes to bed and the Virbac Enzamatic in a morning, he had to have 11 teeth out a few years ago and the vet advice cleaning them at least once a day, it seems to have helped massively because the vet expected to see him again within 2 years but fortunately with the help of this cleaning he hasn't been back yet, he was only about 4 or 5 and he is 11 now so thank you to the makers of this toothpaste and Medicanimal.

Enzymatic toothpaste Poultry flavour.

This enzamatic toothpaste is excellent for our dog as in the past he has been troubled with his teeth, he had to have 11 teeth removed and the vetinarian said he expected to see him again within 5 years but I saw this toothpaste and read the reviews and it sounded brilliant so we have been buying it ever since, up to now he has nt needed to see the vet again with his teeth as they have improved loads.

Old dog; new tricks.

We taught our rescue dog, at 12!, to accept toothbrushing. Starting with letting him lick this toothpaste off a baby's toothbrush and building slowly from there. Now 14 we can get all around his mouth. He loves the paste...so does our 17 year old cat, though prefers Virbac fish flavour.

Yummy taste

Never had a problem with cleaning any of my dogs teeth with this toothpaste.