Skip to content
Skip to navigation menu
Eukanuba Breed Specific Labrador Retriever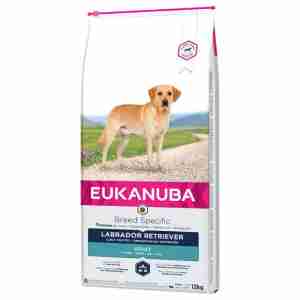 Rollover image to zoom
Product details
Eukanuba Labrador Retriever is a complete and balanced daily food made with high quality animal based protein. It is designed to help support the Labradors heart health, help burn fat to help control weight and help keep the joints healthy.

Key Benefits:
Heart Health: L-Carnitine and natural Taurine, important nutrients for a healthy heart
Healthy Weight: Tailored level of L-Carnitine to help naturally burn fat
Healthy Joints: Added Glucosamine and Chondroitin Sulphate. Formulated to help support healthy joints
3D Dentadefense - crunchy kibble helps remove deposits from your dog's teeth. After he eats, special minerals keep tartar-forming materials from attaching to his teeth.
Ingredients
Ingredients

Chicken (>20%), maize, wheat, sorghum, barley, animal fat, poultry meal, dried beet pulp, chicken digest, dried whole egg, brewer's dried yeast, potassium chloride, salt, fish oil, sodium hexametaphosphate, linseed, DL-Methionine, glucosamine hydrochloride, chondroitin sulphate.
Analysis

Crude Protein:23. 0%, Crude Oil:13. 0%, Crude Ash:7. 0%, Crude Fibre:3. 0%, Moisture:8. 0%, Calcium:1. 05%, Phosphorus P:0. 85%
Additives per kg

Vitamin A:12000 IU, Vitamin D‡:750 IU, Vitamin E (a-tocopherol):200 mg, Copper as Copper II Sulphate:25 mg, L-Carnitine:50 mg, ß-carotene:1 mg
Additional Information
Eukanuba Breed Nutrition Adult Labrador Retriever

When feeding for the first time gradually introduce Eukanuba into your dog's diet over a period of 4 days. We recommend feeding your dog twice a day. Divide the daily amount shown in the chart by the number of meals. Your dog may eat more or less depending on age, temperament and activity level.
Always have plenty of fresh water available for your dog to drink.
Body weight Grams per day
| Weight kg | g per day |
| --- | --- |
| 20 | 190 |
| 25 | 220 |
| 30 | 245 |
| 25 | 275 |
| 40 | 300 |
| 45 | 325 |
Feeding the correct amount

It is important to remember however that these figures are guidelines only, and there are several factors to be taken into account when assessing your pet's nutritional requirements : -
Activity level

Temperament (stressed animals burn off more calories than relaxed ones)
Metabolism (every animal is an individual with his or her own speed of metabolism; this means that 2 dogs of the same age, breed and weight could have different daily calorie requirements)

In order to provide the correct portions when feeding your dog or cat, it is also helpful to assess your pet's appetite, visual appearance and stools. Whilst poo-watching does not sound particularly pleasant, it is one of the best indicators of health! Increased frequency of passing faeces, production of large quantities of stools of loose motions are often frequent signs that an animal is receiving more food than he or she requires.
It is important to obtain an accurate weight for your cat or dog, and also to weigh out the food. Guessing on both accounts gives a large margin of error.
Changing Food Brands

For a successful diet change, we recommend following the feeding pattern below. The daily feeding amount should be split into two equal amounts and the proportions of new food increased over the first week as illustrated.
TOP TIPS
For those dogs who do not make eating a priority, here are some additional points:
- Reduce the number of tit-bits given during the introductory period
- If your dog has been used to eating wet food, moisten with warm water.
DAY 1-2 75% Original Diet
25% New Food

DAY 3-4 50% Original Diet
50% New Food

DAY 5-6 25% Original Diet
75% New Food

DAY 7 100% New Food
Composed with the HTML G Editor. Please subscribe for a HTML G license remove this message.
Customer reviews
Product reviews are filtered by language.
The following reviews are available in English.
Superb food

We changed to this food and are now on our fourth 12kg bag, Rumer our lab loves it, her coat is beautiful and shiny, she has just had her first litter of pups and is producing loads of milk, she is bright and full of energy... great choice and we would recommend to any Lab owners.

Health and weight issues on the mend .

My chocolate Labradore has gain a lot of weight due to the food I had him on , also he was having skin rashes and itchy ears every two weeks I read about the benefits of eukanuba whilst thinking about changing his food after reading the type of food I should try I bought eukanuba he is on his second 12kg bag of food Glenn my dog is really benefiting from this food his weight is coming down slowly but surely and since his approx second week of being on this food he has not had his skin or ear problems return I am so pleased if my dog is happy then so am i, .

Shiny coat. Clean teeth. Healthy tummy. Plenty of energy. Mollie loves it, so I'll keep buying it!

We adopted a 5 year old choccy lab 2 years ago. To start with, we fed him generic dog food. We were then told about this food and it has changed him completely. For a 7 yr old, he is playful, active and very healthy, with a lovely, shiny coat. Not expensive as you actually don't feed so much - and it's worth it for the difference it makes. Cannot recommend it enough. Pet Supermarket great, too!

I have a Labrador collie cross. People often remark how shiny her coat is. I've tried various foods and this comes out in the top two and clearly labels, what dog it is for. This is helpful with all the wide choice available and it's great to know you have a product specifically for your dog breed. I love the fact protein is listed as the first ingredient and not wheat based bulkers and that my dog is getting all she needs. Ordering from Pet Supermarket , you can get it delivered straight to your door :)