Skip to content
Skip to navigation menu
Feliway Friends Diffuser Starter Pack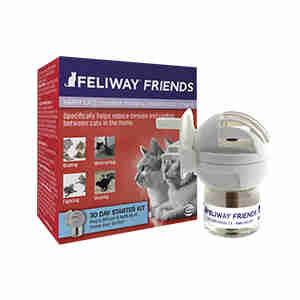 Product details
Please be aware that this medicine can only be supplied for a maximum of one year treatment per animal.

Feliway Friends Diffuser Starter Pack is proven to create a tranquil and stress free environment for cats who fight or can't settle with each other.
The diffuser helps you nurture your relationship with your cat or cats, by creating a loving environment for them. Felines having to live in the same space can cause unwanted behaviour. Less visible signs of stress or upset can be as witnessed as one cat continually hiding.
Felifriends can help solve this by continually releasing a synthetic version of the cat appeasing pheromone (CAP). This scent can help to create a calm and safe home and has been shown to reduce tensions.
This 30 day Felifriends plug in diffuser and refill should be plugged into the room where the cats spends most of its time. The product should be used until the conflicts stop and air of tranquillity is achieved
Key Benefits:
Only product clinically proven to help reduce or prevent conflicts and tensions between household cats
Results can be seen in one week
Covers area 50-70m2
Just screw the vial onto the diffuser and plug it into an electrical socket
Pack contains:
Plug-in diffuser
30 day refill (48ml)
Customer reviews
Product reviews are filtered by language.
The following reviews are available in English.
AMAZING RESULTS

My newest cat was a right adorable thug but is now a playful chap. I am going to get a refill it is worth every penny!

fellway difusser

product quite helpful. We have an 15 year old neutered tom cat who has been on his own for about 5 years, we have been feeding this young abandoned year old tom cat for about ten days when the weather turned cold and allowed him into the house , the cats eat together but stick to different parts of the house. we have tried to contact the owners but they are impossible to get hold of. he has such a lovely nature as our own cat, we will persevere and find fellway helps.

Feliway Friends

My two Bengal boys definitely used to have their differences, but since using Feliway Friends I haver noticed a marked difference in their behaviour around each other. They still have occasional scraps, but on the whole they play much more and are more relaxed around each other. Definitely one to invest in if you have cats who have ISSUES!!!

It works!

I have a very stressed 7 yr old female cat who has an uneasy relationship with an older cat. The 7 yr old wants to be top cat and harasses the poor older one at every opportunity although she has a lot of attention and affection. She also has been constantly urinating in the same place indoors despite my efforts to stop her. In sheer desperation I bought a Feliway diffuser which helped a bit but didn';t stop the urinating. Then I discovered Feliway Friends. At last peace now reigns. I have 2 happy cats who live together with no problems and no urinating! Whatever the different combination of essential oils is in the Feliway Friends, it works!!

My first order

Good service, prompt delivery