Skip to content
Skip to navigation menu
Frontline Spot On for Cats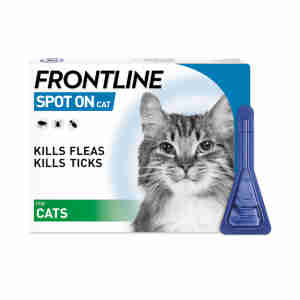 Rollover image to zoom
Product details
Frontline Spot On for Cats is an easy and effective way to get rid of ticks, fleas, or biting lice on your cat.
What it's for?
Ticks, fleas, and biting lice are tiny creatures that burrow into your cat's skin to feed and lay eggs. If your cat loves exploring, chances are they'll pick up these nasty bugs at some point. Fleas love the warmth of your cat's skin, particularly around the armpits, the belly, groin, ears, and bottom of the tail. Ticks are a bit easier to find because they are bigger. You should definitely have a check for them if your cat is washing or scratching themselves too much. Red or painful-looking skin is also often a giveaway.
If you think your cat's got fleas or ticks, act quickly. When ticks find a nice warm spot, they like to lay eggs, which can lead to nasty infections for your cat.
Key benefits
fast-acting, killing most fleas in 24 hours and ticks in 48 hours
keeps working for up to a month before you need to re-apply it
easy and painless to apply - so your cat won't put up a fuss
kills most biting lice and ticks and helps to stop them from laying eggs
becomes waterproof after 48 hours
can use on cats over eight weeks old
can use on cats who weigh one or more kilograms
How it works
Frontline Spot On is easy to use. It comes with a 50mg pipette, which you just press against the skin where the neck and skull join. Do this again two or three centimetres further back. These spots are tough for your cat to reach, so it helps stop them licking it off! Your cat's natural skin oils do the rest of the work, carrying the medicine through their body. It'll often be able to kill fleas and ticks on contact.
Frontline Spot On is very effective, so it's a good idea to let it dry before handling or stroking your cat. Use our Indorex Household Flea Spray to keep your house free of pests.
Administration: Part the coat between the shoulder blades until the skin is visible. Place the tip of the spot-on pipette on the skin and squeeze gently to empty its contents onto the skin, preferably at two spots, one at the base of the skull and a second 2-3cm's further back.
To ensure that you read the most up to date information about this product, please check the VMD's Product Information Database.
Legal category: AVM_GSL | Frontline Spot On for Cats
Ingredients
Each tube contains 50 mg of Fipronil:
Fipronil: 10% w/v,Butylhydroxyanisole E320: 0.02% w/v , Butylhydroxytoluene E321: 0.01% w/v,Non-aqueous vehicle: to 100%.
Warnings
Do not use on cats under 8 weeks old or less than 1kg.
Dosage
Protect your cat from fleas by administering this treatment once a month. It is recommended that you also treat your home if your cat has had fleas. This will help to prevent your cat from any remaining fleas and their larvae.
Dosage:
Use 1 pipette of 0.5 ml per cat (approximately 7.5 - 15 mg/kg).
Customer reviews
Product reviews are filtered by language.
The following reviews are available in English.
Frontline cat

Not as easy to apply as the video makes out. Difficult to find skin,and then as soon as he felt the first drop he was wriggling. Consequently some went on fur and he still has some fleas two weeks later

Great Product

No stress for me or the pets. Very good price too.

Frontline flea treatment and droncit wormer

Excellent service. Best products in my experience. Fair price. Speedy .

frontline cat

i always use frontline for my dogs & cats as it is the best for flea & tick protection I have found. Speedy delivery & a great price

took a while

it took a while to come but they dealt with the problem perfect