Skip to content
Skip to navigation menu
Joint Aid For Dogs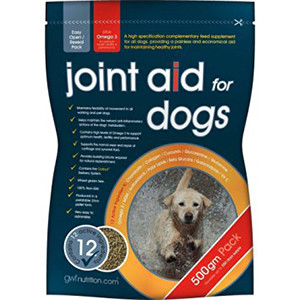 Product details
Joint Aid for Dogs the painless, economical aid for maintaining healthy joints.

Unfortunately, it is a fact of life that the well being of many dogs is compromised by the onset of stiff joints or uneasy movement at some point in their lives.

As a result, Joint Aid for Dogs has been uniquely designed to utilise 11 naturally occurring nutricines" (feed components with health benefits) to provide extra support to the normal wear and repair of cartilage, synovial fluid, tendons and joints in the skeletal structure, whilst aiding the natural anti-inflammatory actions of the dog's metabolism to help maintain flexibility of movement throughout its life.

100% natural
Key Benefits:

The following, 11, naturally occurring nutricines are incorporated into Joint Aid for Dogs to provide the very best support for your dog:
Chondroitin - responsible for the resilience of cartilage as well as its formation and repair.
Collagen - the main supportive protein of bone, cartilage and connective tissue which acts as the body's glue for adhering cartilage to bone, teeth to gums, etc.
Curcumin - helps maintain the natural anti-inflammatory action of the dog's metabolism.
Glucosamine - involved in the formation of tendons, skin, bones and ligaments and maintains the ability of cartilage to hold water in order to act as a shock absorber.
Glutamine - supports the gut barrier and immune functions.
MSM - essential for healthy connective tissue, joint function, cell replacement, enzyme activity as well as the immune system.
Oatinol(tm) - supplies natural antioxidants, polar lipids, beta glucans and galacto lipid emulsifiers, required to maintain gut cell integrity, maintain the lining of the gut, support the immune system and aid the absorption of nutricines, vitamins and trace elements.
Vitamin C - involved in the natural healing process and is important to the immune system.

For continued support, Joint Aid for Dogs should be fed on a daily basis.
"
Additional Information
Joint Aid for Dogs should be mixed with the dog's normal feed at the following daily level:
Toy / Small Dogs: 5gms / day or 1/2 measure (supplied)
Medium / Large Dogs: 10gms / day or 1 measure (supplied)
Customer reviews
Product reviews are filtered by language.
The following reviews are available in English.
Joint aid works

My 11 year old Labrador had started to limp from getting up. I put her on joint aid and within a week she was walking normally

Joint Aid works

My 11 year old Labrador had started to limp when she got up from laying down. I put her on joint aid and within a week she was walking just fine.

Joint Care

My dog is a German Shepherd and is 12months old and has been diagnosed with Hip Dysplasia. This product has been amazing I have used this for 2 weeks now and my dog is not lame nor is he limping anymore. I'm am going to keep using this product as it is a life saver and with ingredients such as Tumeric this is a anti inflammatory as it is... hopefully this will keep him away from pain killers which I don't want him to be on.

Give it a go ...... you will be surprised

I have used joint aid for years, for some reason I stopped, my 10 year old started to lag behind and at one stage did not want to walk. She has a heart murmur and we thought it was that. We had test and she was ok. We put her back on the joint aid and within a week you could not stop her. Best thing ever. Will never take any of my dogs off it again.

Old age dog

Jack has been taking Joint Aid for Dog for a few years now. He is 12 and has arthritis in his shoulder. He also takes other medication. I'm sure it helps him, but I haven't taken him off it to check.