Skip to content
Skip to navigation menu
Royal Canin Mini Adult 8+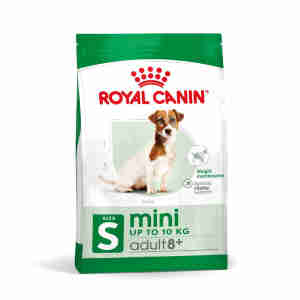 Rollover image to zoom
Product details
Royal Canin Mini Adult 8+ is designed especially for your small dog as they get older, keeping them fit, healthy, and happy.
What it's for
Just like us humans, dogs like to relax a bit more as they get older. That means your dog might prefer napping in their bed a little more often. Because they slow down a bit, they can start to put on weight more easily. This also happens because their tummy digests food more slowly as they mature.
Special foods like Royal Canin Mini Adult 8+ are carefully made to balance how much fat your dog gets, so they don't put on a few extra kilos as they age. Having a good diet is really important as your dog gets older, because weight gain can cause lots of problems. Overweight dogs might end up with joint and bone damage, or develop conditions like diabetes.
Key benefits
special ingredients help your dog digest fats quickly
calcium keeps your dog's teeth strong
antioxidants that boost your dog's immune system
great flavour your dog will love.
how it works
This food has a special ingredient called L-carnitine, which speeds up your dog's digestion of fat. This means they're much less likely to start putting on weight, and can stay at a healthy size. If they're at their ideal weight, they'll have more energy for running round the park, garden, or house with their favourite toy (while you chase them, of course!).
Keeping your dog's teeth healthy is important as they get older too. Royal Canin Mini Adult 8+ is packed with calcium so their teeth stay strong.
Your dog will also love the yummy flavour. The food has been carefully designed to appeal to the tastes of smaller dogs, no matter how fussy they are. Finally, special antioxidants in the food give your dog's immune system a nice boost, so they'll be able to fight off infections better.
Dosage
Recommended daily quantities (g/day):



Adult Weight

2 kg

3 kg

4 kg

5 kg

6 kg

7 kg

8 kg

9 kg

10 kg

No exercise

40 g

4/8 cup

54 g

5/8 cup

67 g

6/8 cup

80 g

7/8 cup

91 g

1 cup

103 g

1+1/8 cup

114 g

1+2/8 cup

124 g

1+3/8 cup

134 g

1+4/8 cup

Exercise < 1 hr/day

46 g

4/8 cup

63 g

6/8 cup

78 g

7/8 cup

92 g

1 cup

106 g

1+1/8 cup

119 g

1+2/8 cup

131 g

1+3/8 cup

144 g

1+5/8 cup

155 g

1+6/8 cup

Exercise > 1 hr/day

53 g

5/8 cup

72 g

6/8 cup

89 g

1 cup

105 g

1+1/8 cup

120 g

1+3/8 cup

135 g

1+4/8 cup

149 g

1+5/8 cup

163 g

1+6/8 cup

177 g

2 cup
Water should be available at all times

We remind you of the necessity of watching your dog's body condition, and regular visits to your veterinary
Check your dog's body condition
Customer reviews
Product reviews are filtered by language.
The following reviews are available in English.
Happy with the service

Happy with service received on time

Fivè Star Product.

I see I praised this super food in 2016! My two daxies aged 11 and 13 thoroughly enjoy their meals, and it keeps them in great condition!

Great service!

Small wait but brilliant product - recently had to return some items due to death of pet. Staff couldn't have been more helpful and kind. Refund processed quickly. Thank you so much.

Royal canin small dog 8+

My dogs love it....I would recommend it to everyone e

Happy with the purchase

Not very fast delivery but it was ok. My dog is happy with the food. Didn't find a difference between this one and the normal royal canin mini adult.