Skip to content
Skip to navigation menu
Royal Canin Recovery Cats/Dogs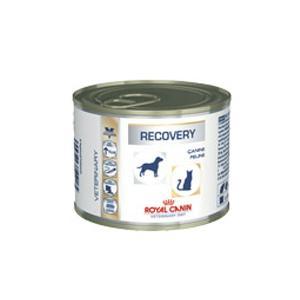 Product details
Recovery is a complete dietetic feed for dogs and cats, formulated to promote nutritional restoration during convalescence or in the case of feline hepatic lipidosis. This feed has a high energy density and a high concentration of essential nutrients which are highly digestible.
Key benefits:
HIGH ENERGY - The high energy content of Recovery helps compensate the volume reduction of food intake with fussy pets.
EASY TUBE FEEDING - Recovery texture makes it easier to use for periodic syringe feeding and tube feeding.
EPA/DHA - Eicosapentaenoic and docosahexaenoic acids, omega-3 long chain fatty acids, modulate skin reactions and contribute to the intestinal mucosal integrity.
ANTIOXIDANT COMPLEX - The synergistic antioxydant complex (vitamin. E, vitamin. C, taurine and luteine) helps fight cellular agressions induced by oxidative stress and promotes good health of the immune system.
Indications
Anorexia
Malnutrition
Convalescence
Tube feeding
Hepatic lipidosis
Pregnancy
Lactation
Growth
Post-surgery
Contraindications
Hepatic encephalopathy
Pancreatitis
Hyperlipidaemia

Veterinary diets are formulated for the nutritional support of dogs/Cats with specific clinical conditions and are recommended to be used under veterinary advice. For more information on feeding Hypoallergenic to your dog/Cat, please consult your veterinary surgeon.
Ingredients
COMPOSITION:
meat and animal derivatives, cereals, derivatives of vegetable origin, oils and fats, milk and milk derivatives, minerals, eggs and egg derivatives, yeasts, various sugars.

ADDITIVES (per kg):
Nutritional additives: Vitamin D3: 300 IU, E1 (Iron): 15 mg, E2 (Iodine): 0.16 mg, E4 (Copper): 1 mg, E5 (Manganese): 4.5 mg, E6 (Zinc): 47 mg - Technological additives: Pentasodium triphosphate: 3 g.

ANALYTICAL CONSTITUENTS:
Protein: 12.5% - Fat content: 6.5% - Crude ash: 2% - Crude fibres: 2% - Moisture: 74.5% - Metabolisable energy: Dog 1080 kcal/kg, Cat 1130 kcal/kg - Essential fatty acids: 1.8% - EPA/DHA: 0.45%.
Dosage
Recommended daily quantities (g/day):


Animal weight

Level 1
Convalescencing dog,
confined in cage,
and cats

Level 2
Active dog ending his
convalescence period,
or in maintenance

2 kg

100 g

1 tray

-

185 g

1+3/4 tray

-

3 kg

130 g

1+1/4 tray

-

250 g

2+1/2 tray

-

4 kg

165 g

1+3/4 tray

-

305 g

3 tray

-

5 kg

190 g

2 tray

-

360 g

3+1/2 tray

-

6 kg

220 g

2+1/4 tray

1 can

410 g

4 tray

2 can

8 kg

270 g

2+3/4 tray

1+1/4 can

510 g

5 tray

2+1/2 can

10 kg

320 g

3+1/4 tray

1+1/2 can

600 g

6 tray

3 can

15 kg

430 g

-

2+1/4 can

805 g

-

4 can

20 kg

525 g

-

2+3/4 can

990 g

-

5 can

25 kg

620 g

-

3 can

1170 g

-

5+3/4 can

30 kg

710 g

-

3+1/2 can

1335 g

-

6+3/4 can

40 kg

875 g

-

4+1/2 can

1645 g

-

8+1/4 can


Water should be available at all times

We remind you of the necessity of watching your pet body condition, and regular visits to your veterinary
Click here to check your dog's body condition

Customer reviews
Product reviews are filtered by language.
The following reviews are available in English.
Excellent

We feed recovery to our elderly Maine Coon cat who has a number of health issues. Its consistency is easy for him to eat, he likes it, and it plays an important part in his diet and welfare.

excellent

used for very sickly cat and also for my pygmy hedgey after she had her leg amputated and shes fussy eater. use it all the time for her now. vet recommended it

The best

I have three dogs each needing medication. Medicanimal has always given me a first class service. Pharmacy very helpful. I've ordered on internet and by phone always excellent service Sue . chadwell st mary essex

Recovery cat / dog

I have 2 cats with cancer and they can only eat this ,when I order it with your staff they are wonderfull and I get it within 5 days ,thank you so much

I have a 20 yo Burmese X male who has a hyper active thyroid and won't take tablets. He became so thin and doolally I thought I was going to finally lose him. I bought a couple of boxes off his food and it's a miracle. He's put on weight, regained his senses and is giving my kittens as good as he gets. Having been offered a new thyroid treatment too I'm now hoping he'll be with me a while longer.