Skip to content
Skip to navigation menu
Vetzyme High Strength Flexible Joint 90 Tablets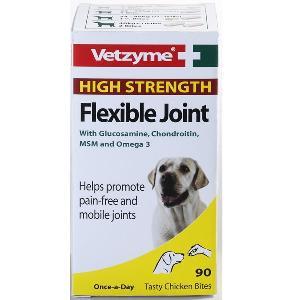 Product details
Vetzyme High Strength Flexible Joint With Glucosamine, Chondroitin, MSM and Omega 3 Helps promote pain-free and mobile joints You see the signs, the dog has trouble getting to its feet and struggles getting up the stairs. Ideally, before these signs develop, take action to help maintain your dog's joint health. Vetzyme High Strength Flexible Joint has been specifically formulated to help maintain pain-free, supple and mobile joints, helping to ensure your dog has a better quality of life as it enters its golden years.

How it works & key ingredients

Fish Oil (Omega 3) research has indicated that increased levels of Omega 3 will help maintain:
Pain-free supple joints
Healthy and flexible joints
A healthy heart and circulation
Glucosamine and Chondroitin are amino sugars, they will help:
In the formation and rebuilding of cartilage, tendons and ligaments
Maintain healthy joint cartilage, tendons and ligaments
Lubricate the joints enabling easier movement
MSM (Methyl Sulphonyl Methane) is rich in organic sulphur and may help:
Maintain elasticity and healthy movement in the joints
Maintain healthy connective tissue
Keep joints flexible and muscles supple
B-complex is a group of water-soluble vitamins and a daily intake is required to help promote:
A shiny healthy coat and guard against nervousness
Fitness and vitality and help release energy to muscles
Regular use will help give the less mobile dog the best chance of maintaining a healthy, happy, active life
Ideal for:

All dogs and senior dogs
Puppies over twelve weeks
Feeding with all pet food
Dogs prone to bad joint problems
Customer reviews
Product reviews are filtered by language.
The following reviews are available in English.
Excellent

Once again, excellent service with very quick turnaround. Love these tablets because able to break in half and add to the dogs dinner without having to hide them in anything and they always eat them. Will be ordering more when back in stock.

Excellent Product

Quick delivery. Use this for both our dogs, one of whom tends to stiffen up after laying down following walks / running around when out with them. She isn't anywhere near as bad as she was before starting this product, a German Shepherd and we give her 1 and half tablets per day. We add to their dinner and they eat with no problems & usually dig out tablets etc that we try to hide, but not these. Our other dog is a Labrador. Found this site to be best for price.

Excellent Service

Vetzyme Joint Tablets from Pet Supermarket help to keep my 11 year old Beagles joints supple

Stiff doggy joints

I have used this product now for some time. My present dog a rescued one came to me with a painful back leg. Almost immediately after taking the tabs she began to improve and at the moment seems fine.

Vetzyme High Strength Flexible Joint

Works very well for my very active dog who no longer limps after playing and running around.